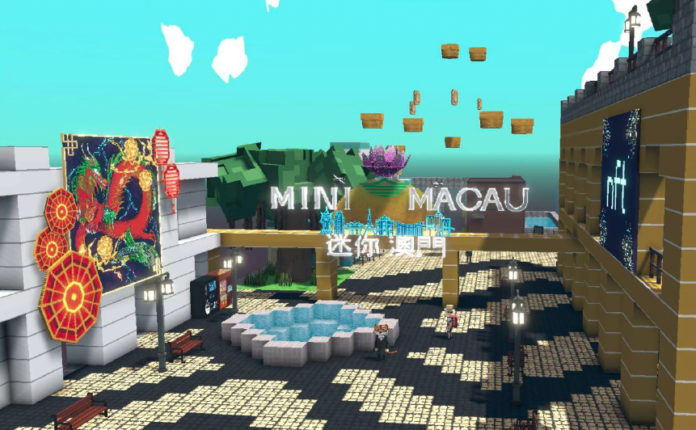 Asia Pioneer Entertainment (APE) has launched its Mini Macau metaverse project, aimed at helping the city's businesses to market their services, and said it will launch the Resortverse hospitality platform by year-end.
Mini Macau will allow digital travelers who cannot travel to a major resort to visit some of Macau's tourist attractions, such as the Macau Tower, the ruins of St Paul's, and the Senado Square. The project has been launched on The Sandbox's Game Maker gallery.
APE's Digital Creations unit has designed two skill-based games to engage with players. The Fortune cookie treasure hunt and Avoid the Tourists games allow players to win prizes that are redeemable in Macau.
Mini Macau is launching with retail brands such as the Choi Heong Yuen Bakery, Seng Fung Jewellery and O Junco de 9 Jades restaurant.
"Mini Macau will serve as a prototype for the future development of our own metaverse travel and hospitality platform, called the Resortverse," said APE CFO and executive director, Tony Chan. "Our travel and hospitality metaverse platform will enable resorts and merchants to engage with digital travelers with online gamification and offer real offline rewards," he said.
APE expects an increase in virtual travel to eventually attract more foot traffic to real-life resorts and destinations.
Chan gave AGB a preview of the metaverse plans in April. When asked why APE, a company that had been primarily focused on distributing electronic gaming equipment, is now dealing with NFTs and virtual worlds, Chan said the decision was largely driven by the impact of Covid-19.
"The pandemic hit Macau gaming operators very hard which adversely impacted APE's core EGE business," explained Chan. "While we started diversifying into smart vending machines to cushion the pandemic's impact, it became quite clear that physical travel restrictions will linger and may continue for a prolonged period. Basically, COVID-19 hindered physical interactions and empowered the need for a more virtual world."
Another reason was Macau's imminent retendering of gaming concession licenses, and the need for operators to diversify away from gaming, particularly VIP / junket gaming.