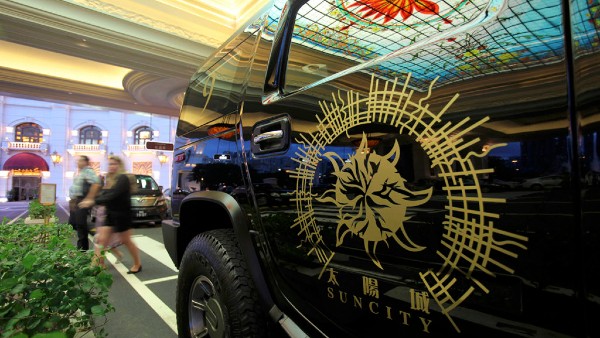 Suncity Group Holdings said Alvin Chau intends to resign from his executive positions with the group and said his arrest may have a negative impact on group revenue.
In a statement to the Hong Kong Stock Exchange, the company stressed that as far as it is aware, no other group units, or employees, are being investigated as part of Macau authorities' probe into illegal gambling and money laundering.
Chau, who is chairman and executive director of Suncity Group Holdings, was taken in for questioning on Saturday and has now been transferred to a jail in Macau pending trial.
"As disclosed in the interim report, the group is dependent on the financial support from Mr. Chau and his related companies," it said. "In the event that the group loses the support of Mr. Chau for whatever reason, the financial position, business and operation of the group will be adversely affected."
In particular, Suncity said the arrest has the potential to hit revenue from its travel-related businesses. In the six months to end June, Suncity got 72.5 percent of its income from the Tigre de Cristal resort in Vladivostok, 18.1 percent from travel related businesses and 8.5 percent from the operation of a mall in China. It also got 0.9 percent from management consultancy services.
The company said that a company owned by Chau is a key supplier of hotel accommodation products representing about 17.4 percent of revenue from the travel and related business segment.
Aside, from these two factors, Suncity said it sees no material impact on the group and its ability to carry out its normal business.
Suncity unit Summit Ascent in a separate statement also said Chau plans to relinquish his non-executive director role with the company. The operator of Tigre de Cristal said none of its staff were under investigation or charged with the incident.
Both companies also said allegations of Tigre de Cristal's involvement in cross-border gambling are untrue. 
"None of the directors, officers or staff of any members of the group has engaged in the solicitation for customers in the PRC for the gaming operations of Tigre de Cristal," it said.
Summit Ascent said Chau's arrest will not have any impact on the group's financial position or daily operations.