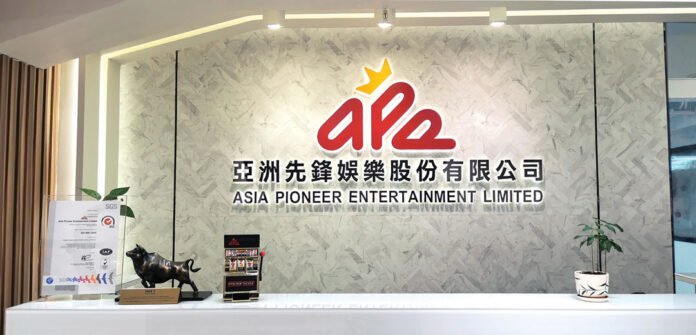 Hong Kong-listed Asia Pioneer Entertainment Holdings Ltd (APE) reported revenue of just above HK$10.5 million ($1.3 million) for FY2022, up 37.7 percent from the prior year. The firm reported a HK$139,276 gross loss for the 12-month period, due to a "sharp fall" in gross profit from its electronic gaming equipment business, according to a Monday filing.
APE has reported HK$14.7 million ($1.9 million) in net losses last year, with the group's chairman's noting that since "Macau is the Group's principal place of business, the Group was adversely affected by the nearly 3 years [of] zero novel coronavirus disease 2019 policies. Tourists, consumers, and businesses all refrain from Macau. Casino customers cut back on business orders. Tourists were few and consumers lacked spending. There was no way of escaping this negative tidal wave".
"Both our electronic gaming equipment supplier business and smart vending machines business were severely and negatively impacted. Then, all of a sudden at the year-end, zero COVID policies were reversed; offering the Group a ray of hope and a light going forward", said the chairman.
Allen Huie also said in a company filing that management had worked hard to cut back on operating expenses and sustain the company's business. "We implemented a consolidation plan to rationalize staff and cut our overall operating expenses", he notes.
As the Covid-related restrictions were phasing out, several casinos in Macau have started to ask for quotations for new electronic gaming equipment orders, the chairman said, adding that they are "beginning to see some light at the end of the dark tunnel".
APE also mentioned that a couple of casinos have asked the company for quotations to upgrade their existing electronic gaming equipment, since the SAR's gaming regulator – the Gaming Inspection and Coordination Bureau (DICJ) – has implemented rules requiring licensed casinos to upgrade their electronic gaming machines to new standards.
The group noted in the statement that they were committed to driving the company back to profitability in 2023, since casinos in Macau will need to buy new or upgrade existing gaming machines after a return of tourists and mass-market gamblers.