As the summer holiday period begins, Macau appears to have returned to its pre-COVID days, with authorities frequently imposing crowd control measures in its center due to a high number of tourists.
According to the Public Security Police, crowd control was enforced around the iconic Saint Paul's Ruins on both Saturday and Sunday afternoons. The police reported the need for the operation, which was very common in Macau before the pandemic, due to the large influx of people and for security reasons.
The gaming hub's visitor arrival figures align with this phenomenon. According to the city's tourism office, Macau welcomed 2.21 million tourists in July, marking a 24.9 percent increase month-on-month. Among all the tourists, approximately 95.3 percent were visitors from the Greater China Region.
Visitor arrivals from January to July 2023 totaled 14.41 million, showing a 314.6 percent increase compared to the same period in 2022. Helena de Senna Fernandes, the Head of the Tourism Office, mentioned that the government expects nearly 24 million tourists by the year's end.
Regarding visitation between January and July, overnight stay visitors amounted to 7.5 million, while same-day visitors totaled 6.91 million. These figures rose by 482.8 percent and 215.6 percent, respectively, compared to the same period in 2022.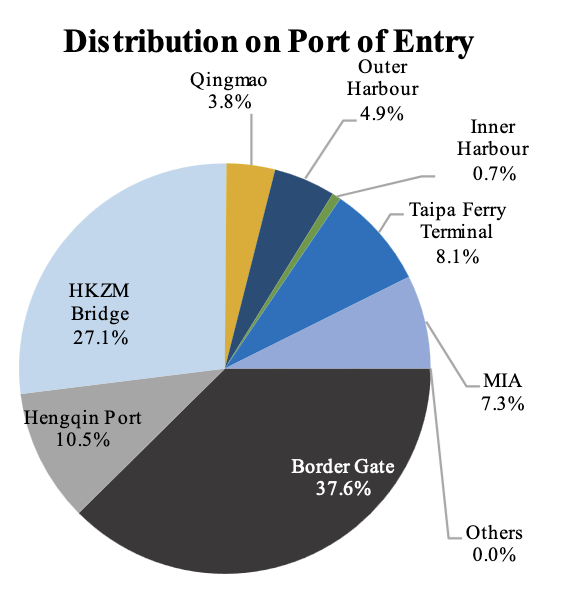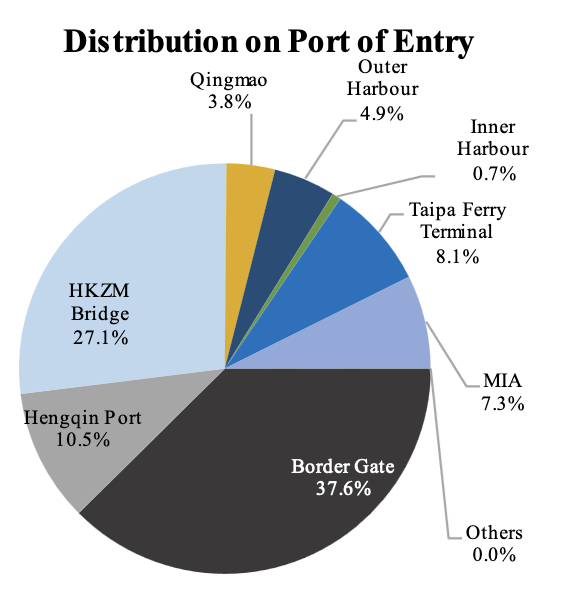 In terms of visitor arrivals by mode of transport in 2023, 79 percent of visitors arrived by land, totaling 11.38 million—a 249.8 percent increase compared to the same period in 2022. Among them, the Hong Kong-Zhuhai-Macao Bridge saw a significant increase of 5,774.2 percent. Additionally, 13.7 percent of arrivals were by sea, which increased by 2,067.7 percent to 1.97 million, and 7.3 percent were by air, showing a 704.7 percent increase to 1.06 million.
The major entry ports were the Border Gate (37.6 percent), the Hong Kong-Zhuhai-Macao Bridge (27.1 percent), and Hengqin Port (10.5 percent).
Hengqin Port, which is closer to the Cotai Strip, where most of Macau's Integrated Resorts are concentrated, opened in August 2022. It has become a border with most of the growth in recent years.
In a detailed comparison of major short-haul and long-haul markets in 2023, aside from the Greater China area, the Philippines, Indonesia, and South Korea are ranked as the top source markets in the short-haul category. As for long-haul markets, the USA, Canada, and Australia are prominent players.