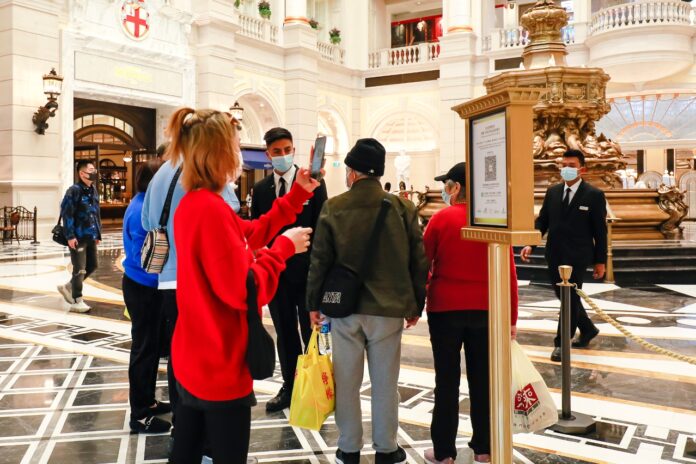 Macau gross gambling revenue (GGR) is now expected to be down 77 percent compared with its pre-pandemic levels, while the key Chinese New Year period is also likely to take a hit from tighter travel restrictions, Bernstein said in a note.
According to the firm's channel checks, gross gambling revenue in the most recent week to Jan, 23rd dropped 53 percent from the prior week due to the more stringent border testing requirements.
The average daily rate was MOP114 million in the most recent week, with month-to-date GGR at MOP4.9 billion ($612 million), or an average daily of MOP213 million. That's 74 percent lower than in 2019 and also down 17 percent from December.
VIP rolling volume is down more than 50 percent with month, with almost all VIP revenue from direct sources. Mass GGR was down 10 percent from December.
Authorities tightened testing requirements on Jan. 14, mandating a negative PCR within 48 hours of travel, down from seven days prior. That has since been reduced to within 24 hours as Covid cases spread in neighbouring Zhuhai.
Before the latest outbreaks, visitation had been 3 percent higher than December and only 4 percent lower than the May peak for last year.
Bernstein said its forecast for a 77 percent drop in GGR for the full month is lower than its prior estimates.
"The reduction is due to recent travel disruption caused by shortened Covid testing requirements and other travel impediments and Covid outbreaks across China," it said. "Chinese New Year will run from Jan. 31-Feb. 6th this year, with visitation and GGR negatively impacted from what was shaping up to be a better holiday period."
Hopes for the opening of quarantine-free travel with Hong Kong have also been pushed back as the city's Covid cases rise.