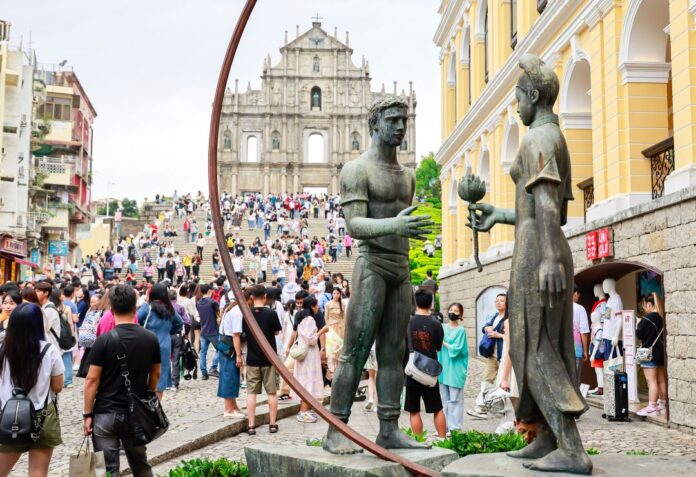 According to Statistics and Census Service (DSEC), total visitor arrivals to Macau grew by 480 percent year-on-year in June to 2,209,662. The figure drops slightly by 0.2 percent compared to May. It is the sixth month in which tourism numbers have passed 1 million since the pandemic forced the city to close its borders in 2020.
As regards the source of visitors, the number of visitors from mainland China jumped by 330 percent year-on-year to 1,444,933, with those traveling under the Individual Visit Scheme (793,614) surging by 488 percent. 
Visitors from the nine Pearl River Delta cities in the Greater Bay Area increased by 186 percent year-on-year to 709,047, with 27 percent coming from Zhuhai (192,324) and 21.9 percent from Guangzhou (155,285). Besides, visitors from Hong Kong (601,663) and Taiwan (42,964) rocketed by 1,447 percent and 735 percent year-on-year, respectively.
Analyzed by checkpoint, number of visitor arrivals by land hiked by 370 percent year-on-year to 1,695,178 in June; among them, nearly half of the visitors arrived through the checkpoint of Border Gate (823,029), 33 percent came via the Hong Kong-Zhuhai-Macao Bridge (562,073) and 13 percent via the Hengqin port (222,788).
In 1H23, the number of visitor arrivals expanded by 236 percent year-on-year to 11,645,877; overnight visitors (6,067,823) jumped by 372.5 percent and same-day visitors (5,578,054) also rose by 156 percent.
The average length of stay of visitors increased by 0.1 day to 1.3 days; the average stay for same-day visitors (0.3 day) rose by 0.2 day whereas that for overnight visitors (2.3 days) decreased by 0.7 day.