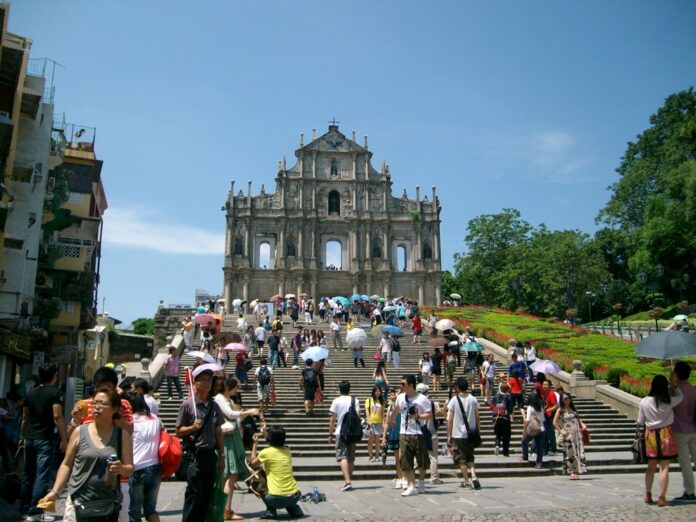 Macau is likely to remain the top travel choice for Mainland Chinese in the near term and a 10 percent increase in visitation would boost gross gambling revenue (GGR) by 6.9 percent, Jefferies said in a research note.
The firm said that EBITDA would gain by 8.4 percent.  A 10 percent change in Mass GGR per visitor leads to 7.6 percent and 9.3 percent change in GGR and EBITDA.
Jefferies said it expects a 79 percent increase in total visitation this year to 13.9 million, with 91 percent of those from the Mainland. However, this would still only be 35 percent and 45 percent of pre-Covid levels, it said.
It expects Hong Kong visitation to reach 16 percent of 2019 levels this year due to the slower pace of reopening.
While Hong Kong was the top destination for outbound Chinese travel prior to the pandemic, Macau was the favourite last year with 81 percent of 9M21 overseas trips or 5.2 million arrivals out of total 6.5 millions. Jefferies notes that the China outbound travel market was worthy $250 billion before Covid shut the borders.
Macau's GGR recovery will however depend on keeping the borders open and Jefferies said there is a likelihood that Chinese New Year will once again disappoint due to the rising number of Covid cases in China. Macau has tightened its entry requirements for visitors from neighbouring Zhuhai, which is one of the key gateways into the city, requiring a negative Covid test within 24 hours of departure.
The firm said it has factored in a slower rebound with 2022 GGR only reaching 41 percent of its 2019 levels before rising to 59 percent in 2023. The VIP market will decline to just 14 percent of total GGR by 2023 , it forecasts. This is offset by Mass GGR increasing 77 percent in 2022 with total GGR growing 39 percent.
Galaxy Entertainment is Jefferies top pick among the six operators. It has been upgraded to buy and remains the only one with a net cash position. This will allow it to raise its dividend payout ratio from its historical 30 percent level. The company has a steady construction business, while its Phase three and four expansion already focuses on non-gaming, which is expected to be one of the government's criteria in the license re-tender process.
Among the foreign operators, Jefferies favours Sands China, also a buy, due to its high exposure to the mass market, which made up 70 percent of their 2020 gross GGR. It has the highest number of rooms of all the operators too at 12,105 and is therefore well placed for mass market expansion.
The firm rates all the other operators as a hold. It believes SJM Resorts is poised for growth following the opening of its Grand Lisboa Palace on Cotai, but said much of the upside has already been factored into the price. GLP will increase SJM's gaming tables to 300 from 150 at end-3Q21 but will be competing with other operators for direct VIP and premium mass players, the report said.
Wynn Macau is a hold as its need to transition to the mass and premium mass market is an overhang, while MGM China was downgraded to hold on concern over market share, with newer offerings from other companies potentially attracting away clients once visitation normalises.
"We expect the dividends under new licences would be based on payout ratio, but payout ratio could disappoint due to negative shareholder equity," Jefferies adds on Wynn.
Melco Resorts & Entertainment currently has the cheapest valuations, but also the highest debt, with its debt to equity ratio at 682 percent, it said.