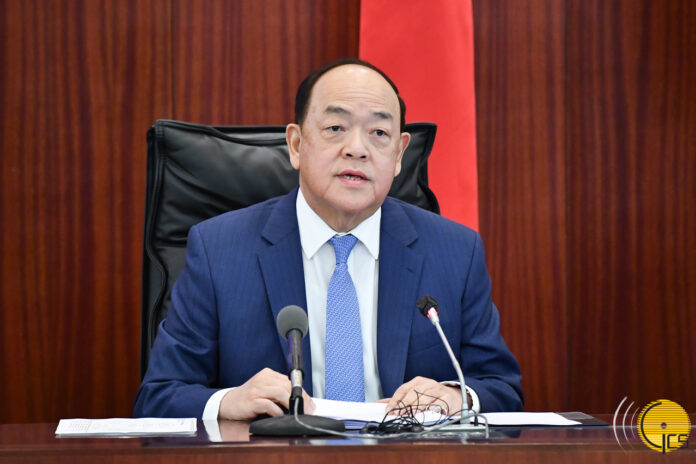 Macau's Chief Executive Ho Iat Seng said that the government is in continuing negotiations with Mainland China on group visas and e-visas, but that a broader opening to international travel is not imminent.
In his annual policy address, Ho said that he did expect the border situation with Hong Kong and Mainland China to normalize next year as vaccination rates rise.
However, he was wary on a wider opening to foreign nationals.
"We have to reach a balance," he said in a press conference following the speech. "If we open up the borders to foreign nationals, it's going to be risky and we put ourselves in a position where we could be disadvantaged as we are stuck in the middle."
He said there are about 35,000 border crossings between China and Macau a day and some are Macau citizens. "We have to keep the border open with the Mainland," he stressed.
Although the border with Mainland China reopened for quarantine-free travel last September, group visas and online issuance of individual visit scheme visas have not been reinstated. The two visa categories are seen as essential to drive a meaningful recovery in Hong Kong's visitation and Ho said Macau was continuing talks with Chinese authorities and added some provinces may be able to be opened up for group visas. 
Visitor arrivals to Macau have been rising again after Covid shutdowns in August and September. Average daily visitor arrivals between 20 October and 10 November reached 25,168, which rose by 20 percent compared with the average daily volume of visitors in September. 
However, visitor numbers are not expected to reach their pre-pandemic levels until at least 2025 and possible even longer than that.
Macau's non-gaming spending is likely to return to its pre-pandemic levels of about MOP64.08 billion ($7.9 billion) by 2025, although the overall number of visitors may still be short, according to a new report.
The report was carried out by Deloitte Advisory Services on behalf of the Macau Government Tourism Organisation. It reviews progress under the Macau Tourism Industry Development Master Plan that was first published in 2017.
In terms of number of visitors, the report expects there to be between 36 million and 41 million in 2025, which may be short of the 39.4 million welcomed in 2019. However, the total length of stay is expected to rise to 2.5 to 2.9 days, up from 2.2 days.