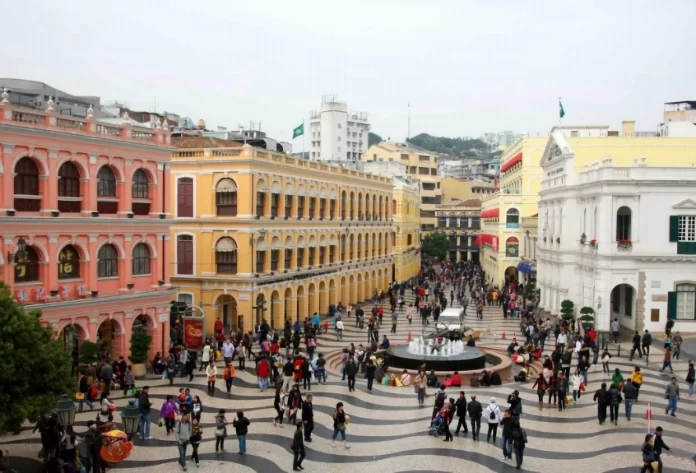 The Macau Economic Association confirms that Macau has stepped out of the COVID-19 shadow after observing a strong rebound in the number of visitors and the normalization of social activities.
The association said that, in recent months, Macau's economic climate has been "warming up" and the effects of the pandemic are clearly fading away.
Leading indicators of economic climate indicated by the group are: the local currency supply M2 continued its upward trend from last December, with the January data rising 4.6 percent year-on-year to over MOP724 billion ($90 billion), setting a new historical high.
The number of visitors in January has quickly bounced back to nearly three times that of December last year. In addition, mainland Chinese visitors amounted to nearly one million, while Hong Kong visitor numbers quickly recovered to around 350,000.
"Many touristic attractions in Macau have returned to the pre-epidemic state of crowds, and even flow control measures have been adopted on weekends, showing that local tourism and related industries have rapidly improved", notes the group.
The increase in visitors has not only driven the hotel occupancy rate in January to more than 70 percent; the average daily GGR in Macau in January and February has also upped to around MOP370 million ($45.8 million), setting a new high since the outbreak of COVID-19.
According to the analysis of the association, Macau's economic climate index in January and February is still ranked as "underperforming", at 3.6 and 4.0 points respectively. The index may climb to 4.5-5 points, and it is expected to return to the "stable" scale within the second quarter.
China benefits Macau's economic climate
The association headed by economist Joey Lau also mentioned that the city is facing a turbulent international environment, however China's GDP growth target for 2023 is still around 5 percent, which shows that the overall momentum of steady progress of China's economy remains unchanged.
Recent economic indicators released have all been higher than market expectations, which shows a trend of recovery, rebound and expansion of China economy.
The International Monetary Fund's (IMF) latest forecast is that China's economy will grow by 5.2 percent this year. The recovery and rebound of the mainland economy has traditionally directly benefited Macau, however exactly how much the economic impact will be felt remains to be seen.