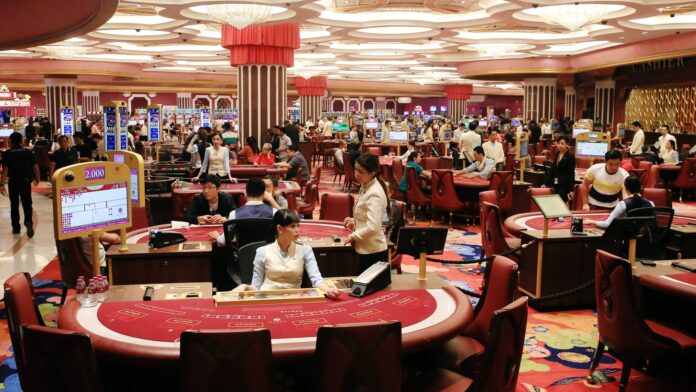 Macau gross gambling revenue rose 6 percent week-on-week, although a new outbreak of Covid in China's Fujian province is a concern, Bernstein says.
In the week of Sept. 6th to Sept. 12th, average daily revenue was MOP264 million, up from MOP250 million the prior week. Month-to-date GGR is MOP3.1 billion ($387 million), the firm said. That 65 percent below the same period in 2019, but up 80 percent from August, which was hit by travel restrictions after Macau's first local outbreak in more than 500 days.
Bernstein notes that VIP average daily volume were up 80 to 85 percent month-on-month with normal hold. Daily mass GGR was up in the sixties percent from August.
Over the weekend, more than 60 local Covid cases were found in three cities in Fujian. The source of the outbreak was thought to be an imported case from Singapore.
Although Fujian only accounted for about 5 percent of visitation in the January to July period this year, "the new outbreak in Fujian may hinder the recent recovery if contagion spreads to other provinces and travel restrictions are raised again," it said.
Fujian borders Guangdong, which is Macau's largest source market.
Bernstein expects GGR for the month to be down in the mid-to-high sixties percent on pre-pandemic levels as long as no further travel impediments are put into place. It doesn't expect GGR to return to the levels seen in April/May until October.
Although travellers from Mainland China have been allowed into Macau since September, 2020, they are not yet able to obtain individual visit scheme visas electronically and group travel has still not resumed. Analysts say the reinstatement of these two measures will be a significant driver for the recovery of GGR in Macau.
However, Bernstein says it believes it's now unlikely that this will happen until next year.
At present only Mainland Chinese visitors are allowed into Macau without mandatory quarantine. Authorities in Hong Kong and Macau are in discussions over opening a travel corridor between the two cities.
Last week, Macau announced a slight easing of its border requirements for non-residents coming from Hong Kong, but only for a limited set of reasons, with no provision for leisure travel.
The Health Bureau will allow in non-residents providing they have been in Hong Kong for at least 21 days prior to arrival.
Non-residents will need to apply for permission from the Health Bureau, with applications to be accepted from Sept. 15. Applicants will also have to present a certificate of negative COVID-19 nucleic acid test when entering the SAR and will still have to complete a 14-day medical observation.