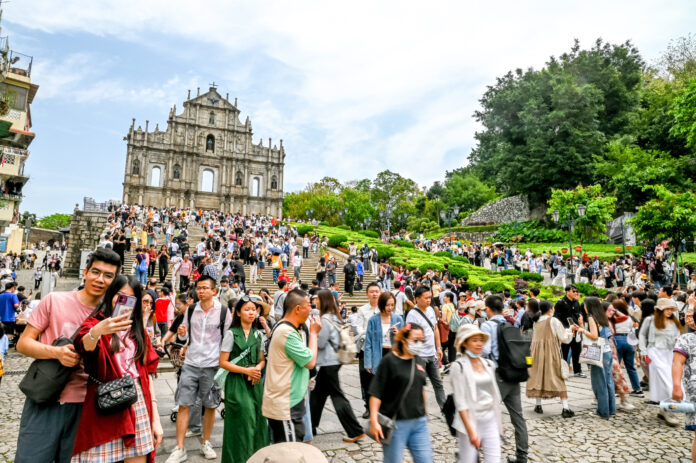 Macau's gross gaming revenue (GGR) could reach as high as $70 billion within 10 years, according to panelists at the ongoing G2E Asia Macau, highlighting that the figures are highly dependent on China's policy changes, but profiting from the rise in mass play as junkets fade into obscurity.
Speaking at the expo, Kenneth Fong, Managing Director of Securities Research APAC for Credit Suisse, noted that the increase in GGR will also largely depend on what happens with table caps, and whether there is an annual review on the number, allowing for the five operators who actually saw their overall table cap diminished during the license re-tendering process to seek a redress.
Fong notes that the figure is "doable" depending on how operators also "transit into non-gaming as a driver for gaming revenue", looking to convert players initially arriving for non-gaming amenities into casino customers.
One of the main factors contributing to this, notes veteran gaming analyst Michael Zhu, is repeat visitation – opining that players from mainland China – Macau's primary source market – will begin to play in the city some three or four times per year.
"Regarding capacity, mainland China is an underserved market," Zhu told a panel at the Global Gaming Asia (G2E Asia) expo in Macau on Wednesday.
Macau in the future
Looking ahead, hotel rooms are going to be a key driver for growth, as Macau aims to replicate the Las Vegas model, despite having less than 1/6 of its hotel rooms. Fong notes that currently "we're getting many new mass players but they have a much lower gambling spend initially – you need time to convert them."
Regarding these players, Long points in particular to the problem of frequency and timing: "they come on the weekend, that means you need more tables and more efficiency in using those tables [therefore] the operator with the lower number of tables will have a constraint".
This is particularly acute on the Cotai Strip, where hotel prices are high, table numbers are high and room numbers are constrained.
And the only way that the playing field could be further leveled in the future is via an annual review on table caps – with hopes that operators can seek to add more tables if they achieve their goals set out under the government's diversification plan.
The Credit Suisse analyst notes that Macau's doubling of its current GGR will largely depend on "how efficiently and successfully operators transition into non-gaming as a driver for gaming revenue".
Of particular interest is how to convert these non-gaming players into punters, as currently Macau is getting "more new players with a much lower gambling spend initially".
This highly reflects Macau's changing visitor demographic, shifting to a new and younger wave of visitors who're more focused on the IR experience, with gambling as an afterthought.
But the split between non-gaming and gaming revenue is likely to hold relatively firm, with Fong estimating that even within 10 years, Macau's non-gaming component will only contribute some 15 percent of revenue.
"Gaming spend will increase quicker than the increase in hotel room pricing," notes Fong, pointing at the already-high price-point of Cotai Strip hotels in particular.
Looking at the operators best prepared to weather the next nine years of their licenses, Fong notes that Galaxy and Sands China are best positioned, due to capacity, while MGM is profiting from its 200-table increase under the new gaming contracts and its ability to make the most out of its limited capacity.
The panel was moderated by 2NT8 Limited Managing Director Alidad Tash and Kenneth Fong was joined by senior gaming executive Andy Choy and gaming expert Michael Zhu on the G2E Asia Macau panel.