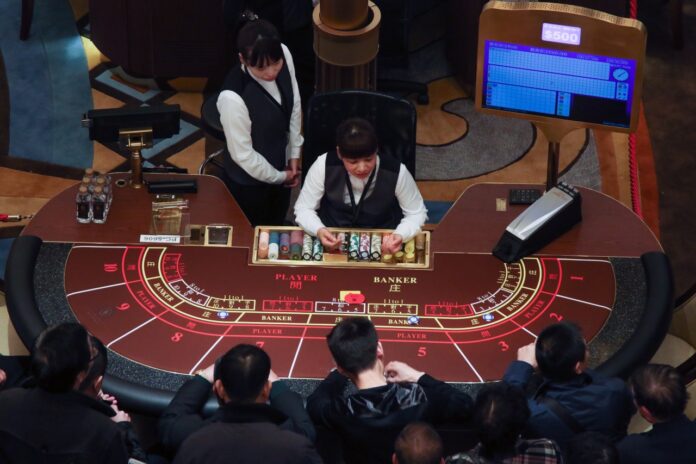 Macau's June gross gambling revenue (GGR) is likely to be 85 percent below its 2019 level, said analysts at Bernstein who cut their forecast for a contraction of 80 percent.
The firm said that the figure could be lower still if visitation doesn't pick up.
In its weekly channel checks, Bernstein said that GGR in the week to June 12th was down 23 percent from the prior week, which benefited from the Dragon Boat festival holiday.
The average daily rate in the month-to-date is 87 percent below its pre-Covid levels and 3 percent below the levels recorded in May.
Month-to-date GGR is MOP1.25 billion ($153 million) with an average daily rate of MOP104 million. That's down 52 percent from 2021 levels.
The firm said the figures were constrained by weak travel sentiment and visa control from the Mainland.
Average visitation so far this month has been 41,100, which is largely flat compared with May this year.
Travel restrictions due to Covid are gradually being lifted, although Mainland Chinese residents are still required to take a mandatory Covid test every 48 to 72 hours. The Chinese cities subject to quarantine on arrival into Macau has been cut to just six from the 20 to 30 at the height of the Omicron spike in April.
While travel restrictions with neighboring Guangdong have been eased to a negative test within seven days rather than 48 hours as had been the case previously.
From June 15th, Macau will also cut its mandatory quarantine requirements for non-resident travelers from Greater China to 10 days plus seven days of self-monitoring and the Chief Executive Ho Iat Seng has indicated that may be further reduced to seven plus seven.
Bernstein said that if the latter easing occurs, some visitors from Hong Kong and Taiwan may be tempted to return to Macau. Hong Kong has historically accounted for more than 15 percent of GGR.
Macau Secretary for Economy and Finance, Lei Wai Nong, has said the Government was closely monitoring and evaluating the need to amend its budget in the second half of the year.
When the budget for 2022 had been formulated last year, it was expected gaming revenue would be about 130 billion patacas, however revenues from January to May fell short of expectation, the Secretary noted.