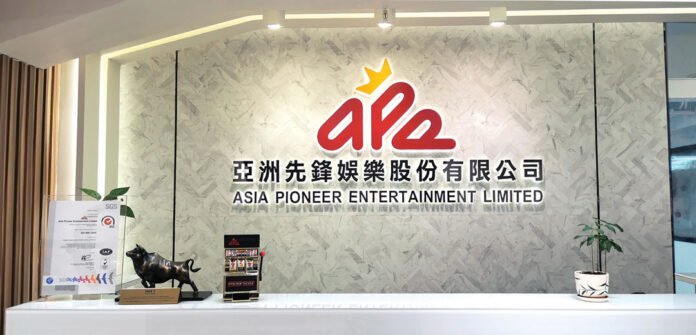 Electronic gaming equipment and consultancy company Asia Pioneer Entertainment (APE) has seen a 27.6 percent decline in revenue during the third quarter of the year, reaching HK$4.02 million ($512,000).
The group also recorded a loss of HK$13.33 million ($1.69 million), a 2.5 percent yearly increase during the period, which it attributes as 'mainly due to the decrease in revenue'.
In a filing with the Hong Kong Stock Exchange, the group notes that 'the decrease in revenue was mainly due to a decrease in income derived from technical sales and distribution of electronic gaming equipment', of 74 percent.
Total revenue for the EGE segment was HK$998,305, as opposed to HK$3.85 million in the same quarter of 2021.
This was offset by an increase in consultancy and technical services revenue, totaling HK$2.02 million ($258,000), up 49.5 percent annually.
APE notes that the 'pandemic continues to adversely impact the operations of our customers, particularly the land-based casinos in Macau SAR'.
It further notes that it 'remains concerned about the impact of the ongoing outbreak […] on the operations of its land-based operators in Macau SAR and Southeast Asia', which has caused a 'prolong(ed) impact on our businesses and operations, particularly our EGE business'.
The group now saw it needs to 'diversify its business lines' by 'looking for EGE Sales in Asia', 'internal restructuring' and increasing its vending machine business, which was launched in the second half of 2021.