More than a third of respondents to a recent survey by Asia Gaming Brief said they don't expect Macau to ever return to its 2019 pre-pandemic GGR.
In 2019, Macau casino gross gaming revenue reached US$36 billion, falling 3.4 percent year-on-year due mainly to a VIP decline in December as a result of a three-day visit by Chinese president Xi Jinping to Macau.
In 2020, the full-year GGR number fell to $7.6 billion, due mainly to pandemic-related border closures and travel restrictions.
When respondents were asked where they thought 2022 full-year GGR will land – these answers ranged from between $8 to $24 billion, with most respondents marking $20 billion as their tip, indicating a healthy, but not rapid rebound towards 2019 revenue.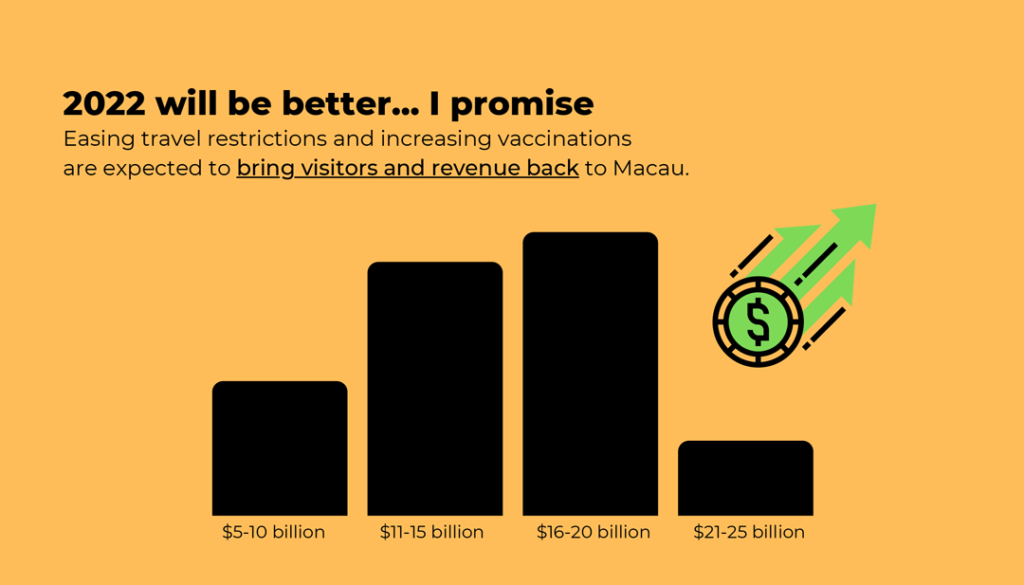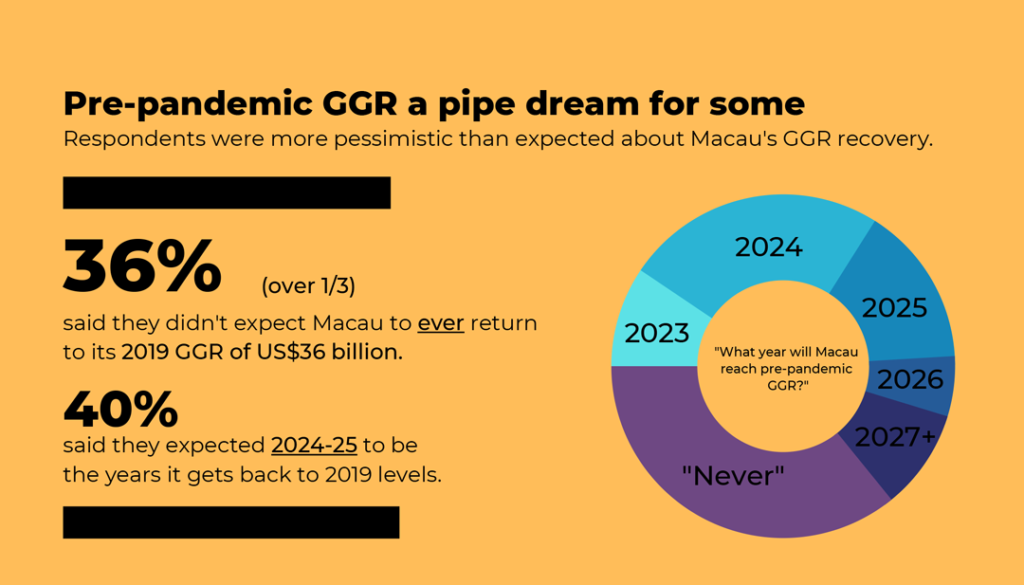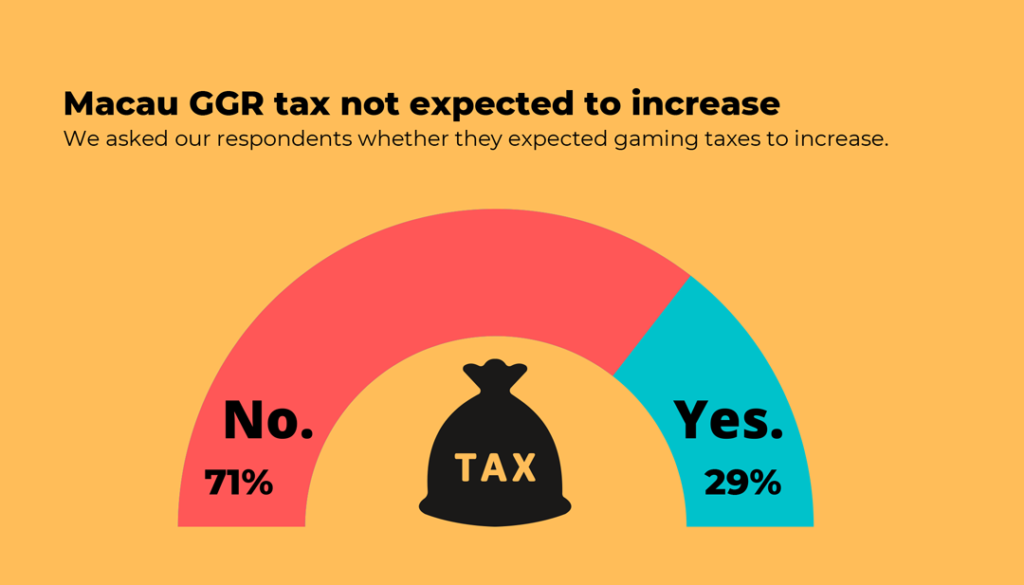 However, when respondents were asked what year they expect Macau to return to its pre-pandemic GGR, at least 36 percent of respondents answered with "Never".
Though not included within the scope of the survey, the negative sentiment is likely a result of the increased pressure from the Chinese government to reign in VIP and junket play over the past few years.
In August, Macau lawmakers appeared to have recognized that China's new policies penalizing gambling and attempting to stop its citizens from gambling abroad will have a direct impact on how much revenue the government receives from its largest tax-contributing industry.
Back then, the committee of the Special Administrative Region's (SAR) lawmaking body admitted that recent changes to the Mainland Chinese penal code could make it "difficult for VIP rooms to continue their operations".
It begs the question of how Macau will be able to fill its coffers with such a sudden loss of VIP revenue.
Last month, Alidad Tash and fellow panelists speaking at the "MBtv/FRC Debates" online conference said that it was likely that the gaming tax would increase, given that the Macau authorities have been hemorrhaging money over the past two years.
However, only 29 percent of respondents in AGB's survey said they expected Macau GGR tax to increase following publishing of Macau's draft gaming law amendments, with those respondents expecting somewhere between a 1-5 percent increase if so.
That would mean only mass gaming and non-gaming revenue could be used to make up for the GGR shortfall.
That being said, there was also a sizable group of respondents who pegged 2024 as the year of GGR recovery, showing that sentiments about the future of the industry are still quite polarising.
This expectation is more closely in-line with analysts' estimates. In September, Fitch Ratings forecasted gaming revenues to be nearly 65 percent below 2019 levels in 2021, recovering to 35 percent below 2019 by 2022, and then fully recovering in 2024.
Many observers in the industry, including one survey respondent, noted that Macau's return to pre-pandemic GGR will be reliant on Macau reaching herd immunity through vaccinations and eventually shedding its zero-covid policy.
Las Vegas Sands chairman and CEO Robert Goldstein in an earnings call in October said that the combination of easing restrictions and pent-up gaming demand will see Macau witness the same-style recovery that Las Vegas has over the past year.
"Las Vegas will be the blueprint for Asia in terms of recovery," said Goldstein. "It's the path. It's the vaccination rate that is soaring, its open travel lanes, it's opening the doors up and watching what happens in Vegas happen in Singapore… I think you'll see a nice turn in 2022 and the same will happen in Macau when the government decides to open its borders up.
Last month, Macau health authorities confirmed they will maintain a "zero-covid" policy until vaccination rates in the city reach 80 to 90 percent. As of October 25, 2021, only 52.1 percent of Macau's population has been fully vaccinated against Covid-19.