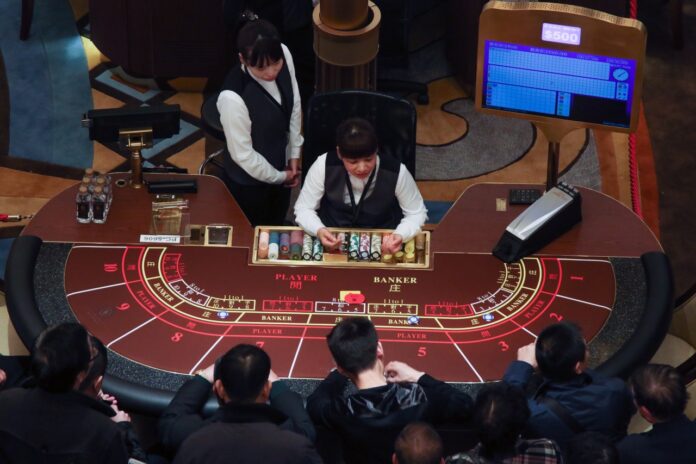 Macau's gross gambling revenue surged 108 percent during the past week as visitation improved over the May Golden Week holiday, but ongoing China Covid restrictions mean the outlook remains subdued, Bernstein wrote in a note. 
Daily GGR came in at MOP200 million, which was 124 percent higher than in April, which was the worst month since the border reopened with China in September 2020. It was 76 percent down from its pre-Covid levels and 41 percent lower than last year.
Bernstein said May month-to-date GGR had come in at MOP1.8 billion ($223 million). VIP volume so far has almost doubled with a high hold rate, while daily mass has also more than doubled during the month.
The firm is predicting that for the month as a whole, GGR will be down 80 percent from its pre-Covid levels, "but could easily be lower (down mid 80s%) if travel does not pick up during the month."
Although Covid cases on the Mainland appear to be slowing to 15 percent of the peak in mid-April, Beijing has insisted that there will be no wavering from its zero-Covid strategy. That's despite an increasingly heavy toll on residents and the country's economy.
Bernstein notes than in April, China's export growth and PMI recorded close to the lowest level over the past two years.
Macau's GGR over the holiday period was helped by stronger-than-expected visitation, which was helped by a last-minute relaxation of border testing requirements by the local authorities, which eased to allow the test to be taken within 72 hours prior to departure for travelers from Guangdong, down from 48 hours previously from April 25th.
Arrivals over the holiday came in at about 27.3 thousand a day, better than government forecasts of 25 thousand.
"Despite the GGR rebound from holiday seasonality, we expect visitation and revenue will remain largely constrained due to the restrictive travel and border control," it said.