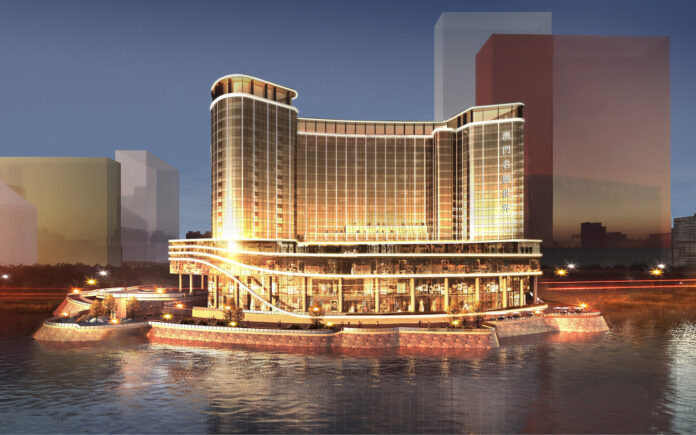 Forward Fashion (International) Holdings said it was collaborating with Macau's upcoming Treasure Island Resort World Hotel to build a new luxury shopping and entertainment center, including the city's first Galeries Lafayette, a French premium department store.
The resort, which will not include a casino, will cover a total area of 8,100 square meters with 600 hotel rooms. It has a five-story shopping mall, outdoor swimming pool and hot spring as well as other amenities.
The property was originally being developed by Genting Hong Kong, which sold off a 50 percent stake in November 2020 to a local investor named Ao Mio Leong to raise funds to help its ailing cruise business, which has since applied for bankruptcy protection. The purchase price was HK$750 million ($96.7 million), with the buyer also granted options to increase the holding.
Genting, which missed out on the bidding for the first round of casino concessions, had been expected to seek permission to open a casino at the resort.
Oliver Tong, general manager at JLL Macau, which is the leasing and marketing consultant for the project, told Macau News Agency that national policies are not very supportive towards large-scale gambling. "Small-amount gambling is fine, however, the central government still hopes that Macau can develop a more diversified local tourism, promoting different aspects of Macau."
Macau's first Galeries Lafayette is scheduled to open in the fourth quarter of this year. Forward Fashion also said it will introduce five other brands that cover fashion, sports, entertainment and catering, including a UFC Gym. Also making its debut will be the Five Guys burger restaurant. 
"Treasure Island Hotel Macau will serve as a benchmark for a new era in Macau," Forward Fashion founder and chairman, Patrick Fan said. "We are excited to introduce top international brands to the hotel, which will demonstrate our advantages in international branded fashion retailing and our success in business diversification, and thus further strengthen our internal business ecosystem.
The cooperative arrangement will not only create greater room for development and more market opportunities for both parties, but will also play an important role in fostering development of Macau's tourism and retail industries."