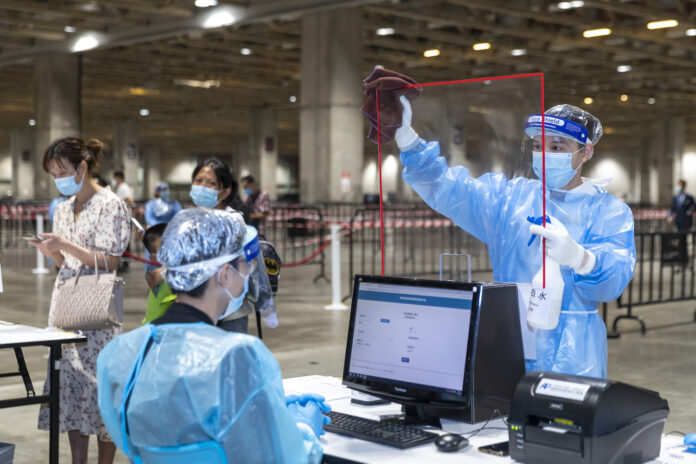 Macau will shut down most entertainment venues from midnight on Wednesday as authorities deal with the latest Covid outbreak, although casinos will remain open for now.
Facilities concerned include: cinemas, theatres, indoor amusement parks, game centres, cybercafes, billiard rooms, bowling centres, saunas, massage parlours, beauty salons, gyms, health clubs, karaoke lounges, bars, nightclubs, discotheques, dance parlours, and cabaret venues.
Health Authorities discovered the 75th Covid case on Tuesday and as a result have expanded the areas of the city under lockdown, or facing restrictions on movement.
There are now six "red zones," which residents are not allowed to leave. They are able to collect supplies from a designated area and may be subject to on the spot nucleic acid tests. In addition, there are now 11 areas under "yellow zone" restrictions.
Macau this week began its third round of mass testing of residents in just two months. The latest Covid outbreak started with a resident returning from Turkey, who passed the virus to security guards working in designated quarantine hotels. Since then it has been discovered in a Chinese construction worker, with the latest case on Tuesday being a Vietnamese woman who worked with the 72nd, 73rd and 74th cases renovating apartments.
The outbreak and travel restrictions have killed the prospects for a Golden Week boost in Macau. According to local media reports, the city welcomed just 4,906 arrivals in the first three days of the break, which began on October 1st. That compares with the 35,000 daily visitors tourism authorities had been expecting.
It has also caused the cancellation of another face-to-face public consultation regarding amendments to Macau's draft gaming law, which was scheduled for October 9.
Macau's gross gambling revenue (GGR) had just been showing signs of improvement after a Covid outbreak in August once again puts the breaks on recovery. As a result, the reported figures for September were below analysts' expectations triggering a further round of downgrades.
GGR rose 32 percent from the prior month, but was worse than expectations and triggered a further round of downgrades.
According to figures from the Gaming Inspection and Coordination Bureau, GGR was MOP5.87 billion, up from MOP2.21 billion a year earlier and MOP4.44 billion in August. The figure is 73.4 percent below September of 2019.
Bernstein Research said the consensus opinion amongst analysts was for GGR to be 61 percent lower than the same month prior to Covid, while its own view was for a shortfall of 70 percent.