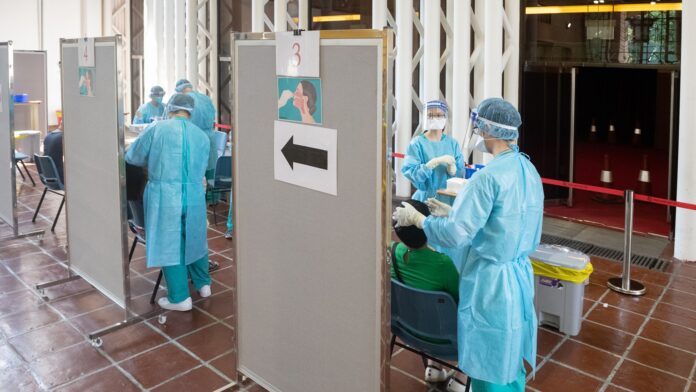 Authorities in Macau say that they have tested over 55 percent of the population, some 390,000 people, with 115,000 yielding negative results.
The mass testing commenced on Wednesday, a day after four Delta variant cases were found in the SAR. No new cases have yet been discovered, but a second round of mass testing could be carried out whether or not new infections are found. Currently some 15,000 tests are being carried out every hour. The Macau government has brought in 300 specialists from Mainland China to help with the testing, with over 1,100 individuals involved.
The SAR's Chief Executive has said that he aims for Macau to return to normal within 14 days, lifting the current border restrictions requiring nucleic acid test results issued within 12 hours of arrival or departure. Visitors by air require a test result issued within 48 hours.
Due to the outbreak, the government has announced that it's revising down its estimates that 2021 gross gaming revenue will reach MOP130 billion ($16.2 billion), however the revised figure has not been released.
The outbreak comes at a time when the government is hard-pressed to advance with needed changes to legislation, as the city's gaming concessions come due in July of 2022. The gaming watchdog has announced that it still plans to conduct the public consultation on the topic within the second half of this year, but no dates have been fixed. The public consultation is comprised of in person clarification sessions, while the government gathers written opinions from key sectors and the public.
Many public and private venues have been closed due to the outbreak – including numerous integrated resorts facilities, with a Chief Executive mandate for all entertainment venues to be closed. Depending on Macau's control of the outbreak, and the conditions of neighbouring regions, these facilities could remain closed indefinitely, hampering the government's progress with the legislative changes needed for the gaming re-tendering process.
Experts and industry insiders have expressed that the gaming re-tendering is likely to be pushed back for a period of up to three years but the SAR's finance secretary claimed in late 2020 that there would be no delay.