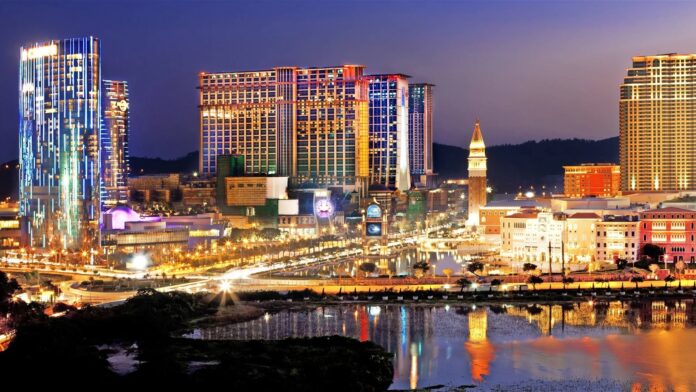 Deutsche Bank has reaffirmed its bullish view for Macau gaming, indicating that mass trends in the city are "encouraging", as spending per mass visitor is up 35-40 percent relative to the same period in 2019.  
The conclusion was given based on data registered between January and April of this year. 
According to the latest report from the investment bank, analysts explain that the study was due to the recent sell-off in the gaming sector, with Macau-centric stocks taking the more significant hit of late.
Looking per operator, the analysts estimate that in a scenario in which 2024 GGR recovers to 64 percent of 2019 levels (with mass recovering to 96 percent and VIP to 27 percent), margins would still notably increase for each of Wynn, Las Vegas Sands, and MGM – estimating between 200 and 400 basis points. Deutsche Bank notes that the 2023 year-to-the-date (YTD) gross gaming revenue (GGR) through May stood at 52 percent of 2019 levels, while 2Q23 to date stood at 61 percent of 2Q19 figures through May. 
Macau's GGR reached $1.93 billion in May, up 5.7 percent from the $1.83 billion registered in April. The May result was the highest monthly GGR figure since January 2020. Macau's GGR reached $8.06 billion for the five months to May 31st, an increase of 173 percent from a year earlier. 
Deutsche Bank notes that in its base case scenario, in which 2024 GGR recovers to 74 percent of 2019 levels (mass recovering to 107 percent/ VIP to 36 percent), margins would expand even more compared to 2023 for each of Wynn, LVS, and MGM – by 400 to 600 basisw points, meaning consensus forecasts would prove "conservative" across the three operators.
The bullish scenario would involve a 500 to 700 basis point increase per the three operators, based on a FY24 GGR recovery to 85 percent of 2019 levels – with mass at 119 percent and VIP at 45 percent, resulting in higher price targets for the three operators' shares.
The research from analyst Carlo Santarelli, Steven Pizzella and Alfonso Straffon also indicate that MGM's current share is the 'most precarious of the three operators' in question but that as long as it maintains its current market share in mass and VIP, the operator has the 'largest upward revision potential' – relative to both consensus and their own estimates. LVS would only be eligible for such upward revision in the bullish scenario described above.