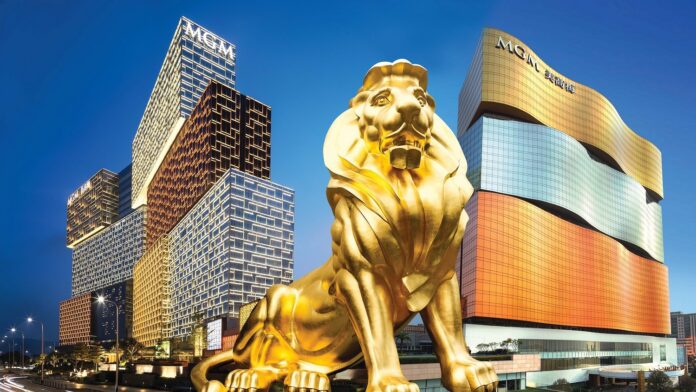 MGM Resorts surprised analysts to the upside with stronger-than-expected 1Q22 earnings helped by its booming U.S. operations, but Macau continues to lag.
The company posted groupwide revenue of US$2.84 billion, up 73 percent year-on-year and ahead of the consensus forecast of $2.79 billion. The adjusted net loss was $13 million, compared with expectations from Deutsche Bank for a loss of $21.6 million.
MGM China reported net revenue of US$268.4 million, down 9.4 percent from a year earlier, and compared with forecasts for about $291.7 million.
"As expected, MGM China struggled in the 1Q22 and we anticipate 2Q22 to be further pressured, given current quarter to date GGR performance in the market," Deutsche Bank analysts noted. "The $26 mm EBITDA loss in the period did include an $18 mm litigation reserve, and as such, the $8 mm recurring adjusted EBITDA loss in the period was just a hair below our $6 mm loss forecast."
The company's U.S. operations have seen a strong recovery, although Macau continues to suffer from China's zero-Covid policies and border restrictions. Marketwide gross gambling revenue for April came in at the lowest level since the border reopened with China in September 2020.
MGM CEO and President Bill Hornbuckle told analysts on a conference call that the company continues to expect headwinds in Macau. However, he noted that the company had gained market share in the quarter to 13 percent, "which is higher than we have seen historically, and our properties are well-positioned to capture premium mass business as volumes begin to return."
Analysts note the pre-Covid market share was about 9 – 10 percent.
On concession renewal, Hornbuckle told analysts on a conference call that the company "remains confident in the government's judicious and fair approach to this process."
Management also commented on the group's bid for a casino license in Japan, where it expects to have a final decision from the central government by October. MGM has teamed with Orix Corp. for a licenese in Osaka and is one of only two remaining bidding groups left in the process.
The company said, if successful, it hopes to being pylon work in 2023, or early 2025 with a view to opening in late 2028/2029.
Most of the attention on the call was focused on the recovery in the U.S. and the group's just-announced acquisition of LeoVegas for $607 million to expand further into online gaming.
In Las Vegas Hornbuckle said that the company is seeing strong weekend occupancies and expects that to continue into the second quarter. Mid-week occupancy is still below 2019, but it said it is seeing an improving mix of business and the return of groups. It expects convention room nights to reach 90 percent of 2019 levels by the end of the year.
The company is also seeing the return of international visitation to Las Vegas, with flights expected to be back to 80 percent of their prior levels by the summer. Although, it said it is not yet seeing Asian travelers.
"Results, in our view, were solid, and we believe MGM is likely to continue to put forth steady results, as we move through 2022, most notably with respect to margins, in both Las Vegas and in regional markets, assuming customer spend levels remain healthy," the Deutsche Bank analysts said.
"We continue to like; 1) the setup for Las Vegas, which includes the potential for margin acceleration and the impact of the group business return and the emergence of the international traveler, 2) the stability in regional markets, 3) the iCasino market leadership of BetMGM, and 4) the near term capital return story. As such, we reaffirm our Buy rating and our $52 price target is unchanged."
Bernstein Research noted that EBITDAR and margin for both Las Vegas and regional casinos reached a record high for the quarter, while BetMGM continued to ramp up and gain market share, reaching 24 percent in combined iGaming and sports betting.