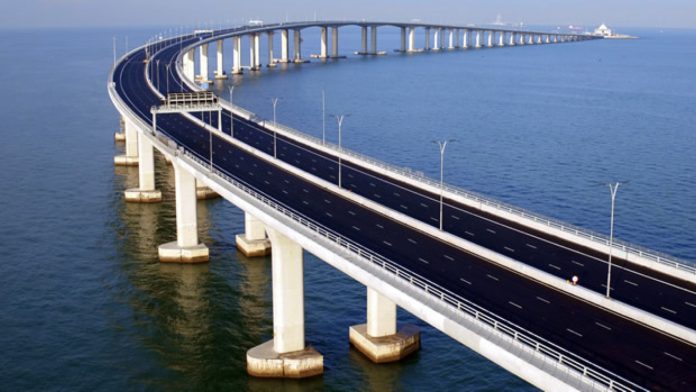 Hong Kong authorities have arrested five people allegedly involved in a money-laundering ring accused of smuggling nearly HK$170 million ($22 million) out of the city via the Hong Kong-Zhuhai-Macau Bridge.
Reports indicate that couriers were hired to take the cash by car from Hong Kong via the HKZM bridge, with the South China Morning Post saying investigators "suspect that part of the cash was laundered through Macau casinos."
Macau sets a strict cap on cash entering the SAR, with visitors carrying MOP120,000 ($15,000) or more in cash of any currency required to report the fact to local authorities.
During an operation which ended on Monday, Hong Kong's customs authorities seized some HK$20.3 million in cash, money transfer receipts and mobile phones, while freezing some HK$580,000 in bank accounts belonging to the suspects.
The case is reportedly the first time the SAR's customs have broken a money-laundering ring "involved in bulk cash-smuggling operations and the use of cross-border drivers," with collaboration from Macau and Zhuhai counterparts.
The smuggling operation has allegedly been taking place since May, with 17 cash-smuggling operations in total.
The suspected source is a money exchange firm in Hong Kong, which authorities say is linked to a money-laundering syndicate.
The publication notes that on multiple occasions the suspected drivers, exiting the city via the bridge, declared they were carrying up to HK$88 million, with one driver claiming he was carrying HK$78 million some 10 times when exiting the checkpoint between May and August.
The drivers have claimed the cash belonged to them, with a customs officer telling the publication the drivers claimed the money was either being taken to Macau or Zhuhai.
Hong Kong authorities say they are still investigating the source of the "illegal proceeds".
The discrepancy between the drivers' incomes and the money they were carrying piqued Hong Kong customs' attention, resulting in the eventual detentions.
The operation was allegedly carried out via a seven-seater van which met with a tow truck at a site about 2 kilometres from the border checkpoint.
The truck continued on to Macau and Zhuhai, while the van returned to Hong Kong, notes the publication.
Authorities believe the tow truck passed the cash off to another courier, who then took the bags of cash into Macau or Zhuhai.
Three of those arrested are cross-border drivers, while two are staff of the money changer in Hong Kong.
The strict limit on the value of cash entering and exiting Macau has led to various types of smuggling operations as well as the transfer of funds using UnionPay terminals, to facilitate liquidity for punters in Macau.
Authorities note that more arrests linked to the suspected money-laundering and smuggling ring are still possible.