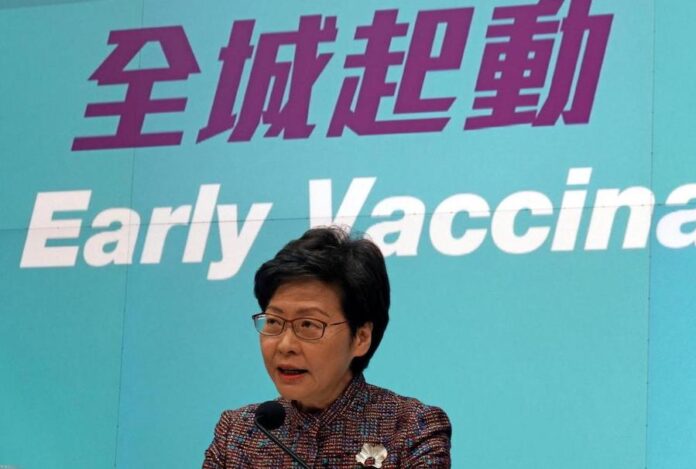 The Hong Kong Jockey Club (HKJC) has stopped public entrance to the races from Wednesday and so-called "cruises to nowhere" have been cancelled under tough new restrictions imposed in Hong Kong to stop the spread of Omicron.
The city will impose a curfew on dining in restaurants from 6 pm to 4.59 a.m the next day and will limit the number of diners per table. A total of 15 types of businesses will remain shut including pubs, fitness centres, sports premises, event and performance venues and cinemas.
Arrivals from eight countries, including via transit, will be banned for two weeks from Saturday. The countries include Australia, the Philippines, the U.K. and the U.S.
"There has been rapid change in the pandemic situation which has caused us to be worried," Chief Executive Carrie Lam was cited as saying by the South China Morning Post. "We will announce today fast, decisive and precise measures to cut the transmission chains."
The restrictions followed warnings by health advisors that a fifth wave of infections had started and there may be as many as 10 invisible transmission chains in the community.
The new outbreak in Hong Kong has derailed plans for a quarantine-free border reopening with Mainland China and subsequently Macau. Authorities have been in talks for weeks on the resumption of travel, which had initially been expected to begin before Christmas. Hong Kong has historically accounted for more than 15 percent of Macau's gross gambling revenue and the lifting of restrictions was expected to provide a strong boost.
The latest cluster stemmed from an infected member of Cathay Pacific's cabin crew who violated quarantine controls.
Macau last week said it was lengthening its quarantine restrictions on travellers from high-risk countries following the discovery of imported cases.
Travellers from the Philippines, India and the United States, among others, will now need to undergo 28 days of quarantine, up from 21 days previously. They will also be required to undergo more testing.
Macau on Tuesday reported two new imported cases of Covid, one of which was the Delta strain.