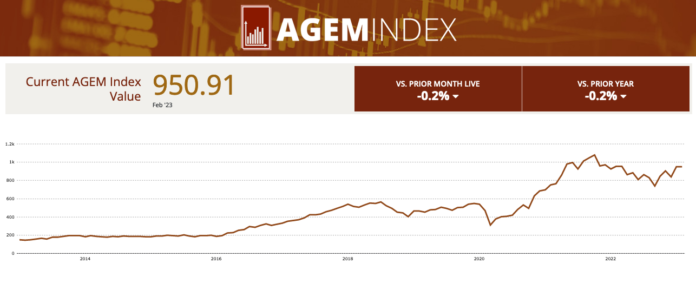 The AGEM Index, published by the Association of Gaming Equipment Manufacturers, saw both yearly and monthly drops in February – of 0.2 percent, as all three major US stock indices saw month-on-month declines in February.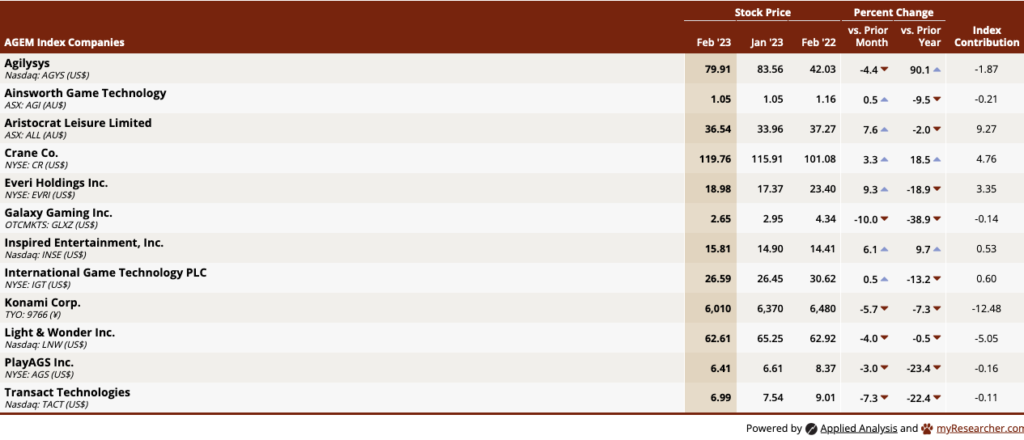 The Dow Jones fell by 4.2 percent, while the S&P fell 2.5 percent and NASDAQ dropped 0.9 percent month-on-month.
Nine of the 12 suppliers on the index are based in the United States.
During the month, half of the listed suppliers saw stock price increases, while only five saw positive contributions to the index.
The largest positive contribution was registered by Aristocrat, whose 7.6 percent stock price increase caused a 9.27-point gain for the index.
Crane also saw a 3.3 percent stock price increase, causing a 4.76-point index gain.
The largest negative contributor was Konami, whose stock price fell by 5.7 percent, causing a 12.48-point loss to the index.
Everi Holdings also saw a 9.3 percent stock increase monthly, after reporting record-high 4Q22 revenue and adjusted EBITDA, however its stock was down by 18.9 percent on a yearly basis, leading to just a 3.35-point increase in the index.
On a yearly basis only three of the 12 companies saw yearly stock price increases – with Agilysys seeing a 90.1 percent yearly gain (despite a 4.4 percent monthly drop), Crane up 18.5 percent yearly and Inspired Entertainment up 9.7 percent yearly (and 6.1 percent monthly).
Double-digit yearly drops in stock prices were registered by Everi (-18.9 percent), Galaxy Gaming (-38.9 percent), IGT (-13.2 percent), PlayAGS (-23.4 percent) and Transact Technologies (-22.4 percent).