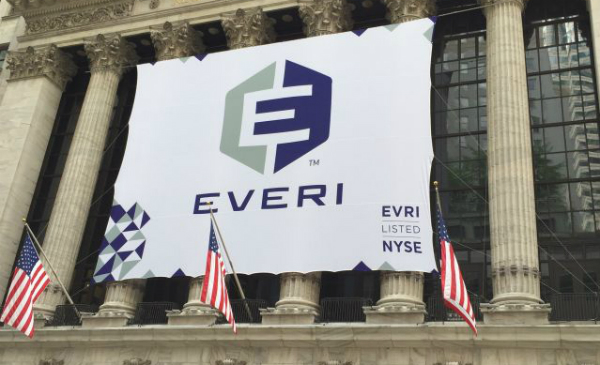 Land-based and digital casino products and player loyalty solutions provider Everi Holdings has recorded another record in fourth quarter revenue and adjusted EBITDA, with revenue up by 14 percent yearly (to $205.4 million) and adjusted EBITDA topping $93.4 million (compared to $88.8 million in 4Q21).
Despite the record figures, the group did see a drop in its net income on a yearly basis, down from $89.4 million to $27 million.
The 4Q22 results continued broke revenue records, topping even the previous period, however on a sequential basis both EBITDA and net income declined slightly from the previous period.
Gaming operations
The groups gaming operations – land based casinos segment contributed the majority of revenue during the quarter, at $67.2 million, a slight uptick from the same period of 2021, while its digital iGaming arm brought in $6.2 million, a rise of 51 percent yearly. Total gaming operations revenue rose by 5 percent yearly, to $73.4 million.
The group's gaming equipment and systems arm brought in $39.8 million, up 11.7 percent.
The group's games segment total revenue was $113.2 million, up 7.4 percent yearly, aided by the sale of some 1,944 gaming units, a slight rise from 4Q21, but also at a higher average sales price, totaling $19,631.
At the end of the year, the group's installed base totaled 17,976 units, up 6 percent yearly
FinTech
Financial technology solutions revenue also rose during the quarter, topping $92.2 million, up 22.9 percent, mostly driven by its financial access services – which brought in $52.8 million.
Its software division brought in some $21.2 million (up 18 percent), while its hardware division doubled its revenue, to $18.2 million.
FY22 and 2023 outlook
For the full year, the group saw revenues increase by 18 percent, to $782.5 million, driven by a 16 percent increase in its Games segment revenue and a 22 percent increase in the FinTech segment revenue.
Net income totaled $120.5 million, down from $152.9 million in 2021, while adjusted EBITDA increased 8 percent yearly, to $374.1 million.
Speaking of the group's results the group's CEO, Randy Taylor, noted that "our ongoing investments in new product development and acquisitions helped grow our product portfolio and addressable markets and are a key driver of our operating success […] for the 2022 full year".
The CEO notes that the group is "favorably positioned for both consisted near- and long-term growth […] as well as to return capital to shareholders".
Looking forward, the group is expecting net income of between $88 million and $100 million in 2023, with adjusted EBITDA of between $384 million and $396 million