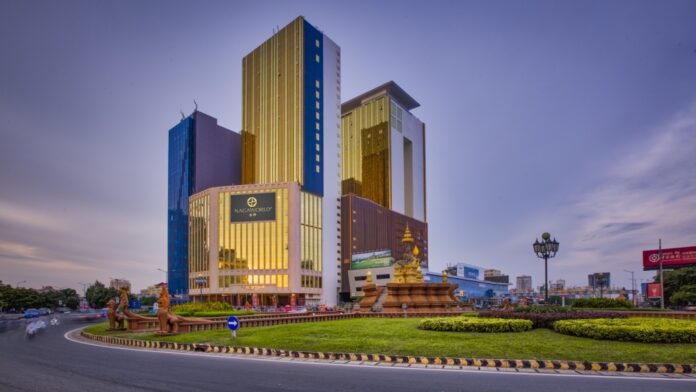 Nagacorp swung back to profit in 2Q22 and posted a 39.4 percent improvement quarter-on-quarter as all main elements of its business improved.
The operator of Cambodia's NagaWorld had net profit of $52.7 million, compared with a net loss of $77.2 million in the prior year period. Average daily business volumes for the mass market and premium mass have recovered to 80.3 percent and 71.8 percent of their pre-Covid levels respectively, it said in a statement to the Hong Kong Stock Exchange.
Gross gaming revenue was up 15.3 percent from the prior quarter at $127 million.
The average daily business volumes for mass market and premium sass segments grew by 15.9 percent and 14.5 percent sequentially QoQ to US$9.69 million and US$8.63 million in 2Q2022 respectively.
VIP business volumes also improved significantly where average daily rollings increased by 98.5 percent on a sequential basis to US$3.91 million in 2Q2022 as the number of the international direct flights to Phnom Penh continues to recover
The company said it would pay an interim dividend of $0.73 by way of scrip shares.
Nagacorp was one of the only operators in Asia to post a profit for the entire year, which it said is due to the strength and resilience of the local market. Locals are not permitted to gamble in Cambodia, however, the capital Phnom Penh has benefited from foreign investment and manufacturing flowing out of China and has a large and growing expatriate population.
Despite the travel and tourism sector remaining subdued globally, Cambodia received a total of 343,464 international arrivals in the first 5 months of 2022, representing an increase of 275.0 percent year-on-year, while arrivals from ASEAN increased by 282.2 percent year-on-year to 217,038 visitors.
As of 15 July 2022, weekly international direct flights to Phnom Penh, Cambodia stood at 179, including 79 from Thailand, 27 from Singapore, 21 from Malaysia, 20 from Vietnam, 14 from Korea, 14 from Greater China cities such as Guangzhou, Chengdu, Xiamen, Hong Kong, and Taipei, as well as 4 from the Philippines.
"The market outlook is relatively positive with the full restoration of socio-economic activity supported by high vaccination rates," it said. Following the reopening of ASEAN and global travel restrictions, the outlook for international tourism continues to improve and the Group remains optimistic on the near term prospects."
Nagacorp also provided an update on its Naga 3 development and confirmed that a project in the Russian Far East remains on hold following the invasion of Ukraine.
It is expected that the combined complex of NagaWorld (Naga 1, Naga 2 and Naga 3) will have approximately 5,000 hotel rooms, 1,300 gaming tables and 4,500 EGM and many other non gaming attractions.
Approximately 93 percent of Naga 3's gross floor area will feature non-gaming offerings, which is in line with the Group's long term strategy of offering comprehensive lifestyle products and services, it said.