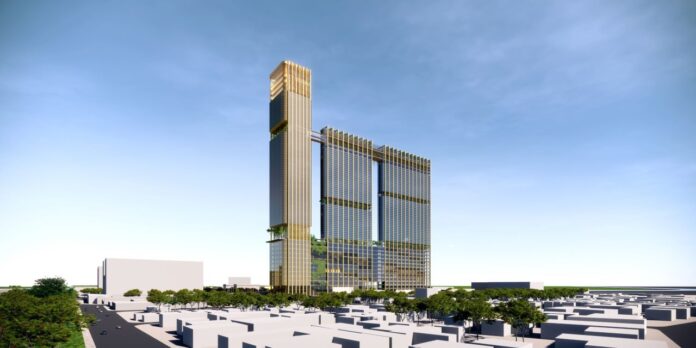 Nagacorp, the operator of Nagaworld in Phnom Penh, said 93 percent of the floor space in the resort's third phase of expansion will be devoted to non-gaming amenities.
In the group's annual report, Chairman Tim McNally said the development of Naga 3 is moving forward as planned and making good progress.
He said once completed, the combined resort will have about 5,000 hotel rooms, 1,300 gaming tables and 4,500 electronic gaming machines.
"It is also anticipated that Naga 3 will include many non-gaming attractions to draw a more diversified tourist audience," he said, adding this is consistent with the group's long-term strategy of offering comprehensive lifestyle products and services.
"Given the uniqueness of a casino monopoly in the heart of a capital city, the combined complex of NagaWorld is expected to position the Group as one of the largest riverine integrated resorts and entertainment centers in the Asia Pacific region," he said.
NagaCorp posted a loss for 2021 due to the impact of Covid closures, but said it had seen a strong rebound in volumes following NagaWorld's reopening in September.
The group swung to a loss attributable to owners of the company of $147 million, compared with a profit on that basis of $102.3 million the year earlier. Revenue plummeted 74 percent to $225.8 million, it said in a filing with the Hong Kong Stock Exchange.
NagaWorld, which is the only casino within a 200km radius of the Cambodian capital Phnom Penh, was closed for 6.5 months last year to control Covid. That compares with a closure of just 3.5 months the prior year.
Although locals are not permitted to gambling in Cambodia's casinos, McNally said the resort had been a key beneficiary during the pandemic of the business migration from China and other Southeast Asian countries into Cambodia, bringing with it large numbers of expatriate workers.
Nagacorp's other main expansion project in Vladivostok, Russia has been put on hold indefinitely.
NagaCorp has said it has suspended its plans to build an integrated resort in Russia's Primorye gambling zone, as it is "surrounded by various uncertainties."
The Hong Kong-listed operator of Cambodia's NagaWorld said it wants to invoke a "force majeure" clause in its investment agreement in the best interests of group and its shareholders.
NagaCorp did not give further details in its statement, which followed Russia's invasion of Ukraine and the subsequent imposition of crippling sanctions on Moscow.