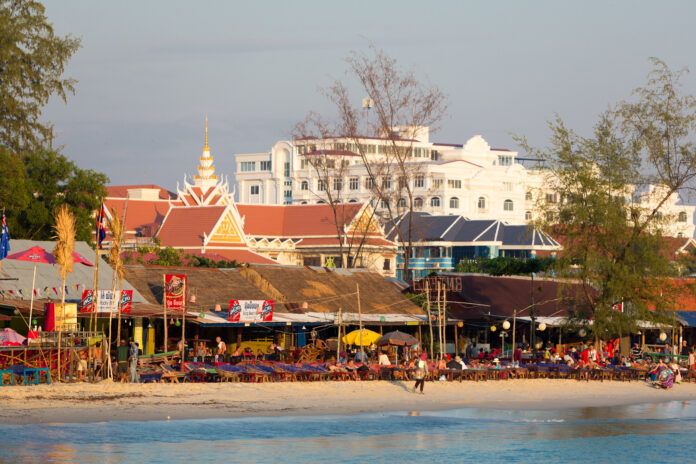 While it's too early to say Cambodia's coastal gambling hub has risen phoenix-like from the ashes, there are encouraging signs that Sihanoukville is serious about transforming into a mass market tourism destination, with a significant improvement in urban infrastructure.
Sihanoukville exploded in a few short years from a sleepy village, with stunning palm-fringed beaches, into an environmental nightmare. An influx of investment, primarily from China, fuelled a construction boom with no urban planning, controls, or infrastructure.
Much of the investment went into new casinos, which were little more than a front for online live dealer operations targeting Mainland Chinese. That was until Prime Minister Hun Sen banned online gambling under pressure from Beijing, leaving serious concern about the future of Sihanoukville and its casino industry.
However, according to those on the ground, the government did follow through on its promises to upgrade infrastructure and serious investors are now taking another look at the town's long-term potential.
"There are no more bumpy roads, there are bright lights during the night and you feel much safer when the streets are no longer dark," said Gary Tham, director of strategic planning at the Jin Bei Group, which opened the Jin Bei Palace in March this year in the second phase of its development projects in Sihanoukville. "During the roadworks they redid the sewer and water system, so everything is falling in place. It's a very good thing for Sihanoukville."
What used to be a bumpy, hour-long ride from the airport into town, now takes about 30 minutes and there is a secondary road that follows along the coastline for a more scenic route. A luxury shopping mall opened earlier this month, while Tham said the town also now boasts an 18-hole golf course.
However, the casino industry has been gutted following the online ban and the subsequent Covid-19 crisis. At least 50 percent of the casinos have gone and it's now mostly just the few big brands still in operation, says Tham, who put the number at between five and ten.
In September last year, the Ministry of Finance listed 61 operating casinos in the town, though unofficial figures were higher still.
The Ministry of Tourism has made clear that its plans for Sihanoukville are for a family friendly tourism destination aimed at the mass market and recently published regulations on gaming in Cambodia made no reference to any change of heart on the online sector.
"The really, really good times for the VIP rolling market are gone and won't come back unless online gaming comes back," says Tham. "The amount of money we're talking about is just a different ball game. There were people making millions in a day or two. Easy come easy go. Those times have gone."
Still, the change has attracted renewed investment interest and not necessarily on a small scale.
Ben Lee, managing partner of iGamiX Management & Consulting said there are some big name project developers looking at the market.
"For them to come and look at Sihanoukville, with the type of money they are considering, really denotes something at work here," he said.
One big name that has publicly mentioned Sihanoukville as a possible expansion opportunity is NagaCorp, Cambodia's largest and most successful operator. In its recent interim report, it said it was looking at both Sihanoukville and Siem Reap for a possible IR, but added that the resort would not necessarily include gaming.
"It is the intention of the group to be perceived as a more comprehensive and quality integrated resort developer with emphasis also on non-gaming as a source of revenue," it said, adding, "We anticipate that the non-gaming and gaming IR will coexist with each other in a mutually beneficial manner."
Sihanoukville's urban planning efforts are being helped by city planners from the Southern Chinese city of Shenzhen. In February this year, the government announced ambitious aspirations to use Shenzhen as a blueprint for Sihanoukville's development.
Outside of tourism, Sihanoukville has the advantage of being at the crossroads of multiple infrastructure initiatives under China's One-Belt-One-Road project and is home to the country's only deepwater port. It is already the site of a sprawling special economic zone, which houses about 153 companies, with more such zones reportedly in the works.
Long-delayed casino law finally passes
---
Cambodia's National Assembly has unanimously approved a long-awaited law to govern the country's casinos.
Economy and Finance Minister Aun Pornmoniroth said the bill sets a minimum capital for the investment in a casino and provides measures to combat money laundering and terrorist financing. "The law is aimed at further strengthening the management of commercial gaming facilities in Cambodia so as to contribute to boosting economic growth, promoting tourism, increasing tax revenue as well as maintaining social safety and security," he said at the session.
The minimum investment level has not yet been fixed and taxation has been confirmed at 7 percent of gross gambling revenue.
Cambodia visitor arrivals down 72% through Aug.
---
Cambodia attracted 1.22 million foreign visitors during the first eight months of 2020, down 72 percent from 4.36 million over the same period last year, according to the Ministry of Tourism.
China, Thailand and Vietnam were the largest sources of foreign travelers to Cambodia during the January-August period this year. It added that some 292,303 Chinese, 182,501 Thais and 180,095 Vietnamese came to the kingdom during the first eight months of this year, down 83 percent, 22 percent and 68 percent, respectively compared to the same period last year.
The drop was due to the COVID-19 pandemic and entry restrictions imposed for all foreign travelers since March.