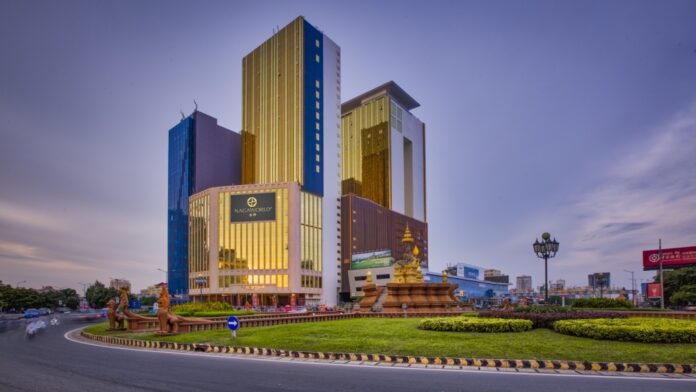 Cambodian casino operator NagaCorp reported a 43.9 percent uptick in premium VIP rolling chip in 1Q23 – to $976 million, also up 48.6 percent over the previous quarter, as China reopened travel to the country. Despite the VIP rise, gross gaming revenue rose just 6.8 percent yearly, to $117 million due to 'generally lower' win rates.
According to a Monday stock exchange filing, NagaCorp Ltd also saw an uptick in the referral VIP market, with a 117.9 percent rise annually and 22.6 percent quarterly, to $387.1 million, while referral VIP GGR rose 175.6 percent year-on-year, to $11.7 million. The group notes that many of the increased headcount from the segment was 'from our neighboring countries such as Thailand, Malaysia and Singapore'.
'The management observed a continuing increase of visitation to our property,' notes the group, 'especially Chinese visitors in March 2023 after the Chinese Government allowed tour groups to Cambodia since February 2023'.
The figure accompanied a strong increase in direct weekly flights from Greater China to Cambodia, up 225.7 percent, to 114 flights.
China granted Cambodia's Approved Destination Status on February 6th, and while figures have been strong so far, the firm believes that the recovery of Chinese tourism to Cambodia is in its 'early stages'.
The group also prided itself on its 'successful conversion of previous referral VIP players into direct Premium VIP players, with the segment in 1Q23 recording its 'highest levels since the first quarter of 2020'.
The firm also mentioned that 'the estimated daily visitation to our property also climbed to about 7,000 towards the end of March 2023, up from 6,000 at the year-end of 2022'. Hotel occupancy in March also reached its highest values since January 2021.
Hong Kong-listed NagaCorp notes that average daily business volumes for the mass market in 1Q2023 'have already recovered to 81.0 percent of FY2019 level (peak pre-COVID-19 year) and the average daily business volumes for the Mass Market in 1Q2023 have already achieved the highest levels since the first quarter of 2020'.
Mass GGR actually fell overall during the quarter though, by 3.9 percent, to $76.62 million.
EBITDA for the quarter fell by 3.3 percent annually, to $59.02 million.