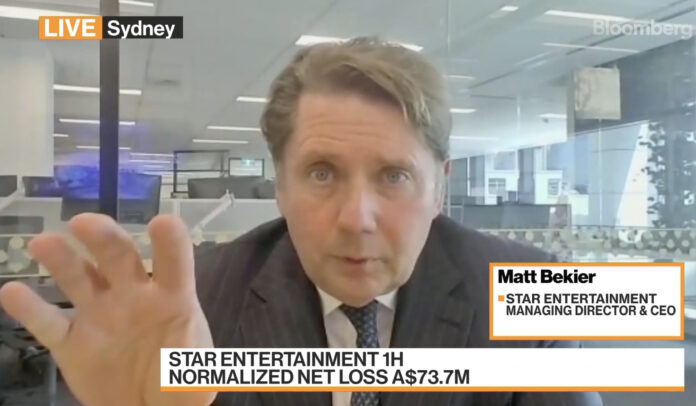 The Star Entertainment Group CEO Matt Bekier says that whilst domestic travel may "compensate" Australia's tourism industry for now, its long-term survival relies on the return of Chinese and Southeast Asian visitors. 
Bekier was speaking in an interview with Bloomberg on Thursday, discussing the outlook for the casino operator following the release of its 1HFY22 results.
The Star saw subdued earnings due to disruption by the Covid-19 pandemic, which led to lengthy closures of its property in Sydney last year. 
However, Bekier said he was optimistic about the rest of 2022, judging from strong revenue performance once the property was allowed to reopen.
"We've seen it in the past, every time we open the doors, people are queuing to get out." 
"What we're seeing right now is that customers who are older are still holding back. It's particularly young customer groups, and very keen to come out quickly."
"70 percent of our customer base is on loyalty and so we can see and track very, very precisely who's coming in, who's not coming and who needs to be invited back, and so on."
When asked about the reasons behind the sale of the group's private jet last year, Bekier stressed that it was not a reflection of pessimism over future Chinese tourism.
"In the past, 20 percent of our gross revenue came from high rollers, that's about 12 percent of earnings. It's always a high turnover but relatively low margin business. "
"There's a host of regulatory changes that are happening here. The sale of the jet signals the very top-end junket type business – well we don't expect to see that back. So we are adjusting our business model."
"But I look forward to welcoming many Chinese mass-market customers and tourists back to Australia as soon as possible," said Bekier.