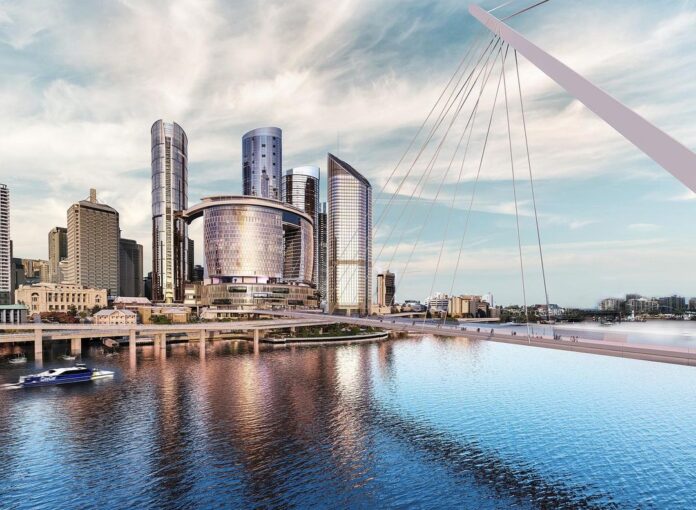 The Star's latest move to raise some $545 million in an equity liferaft has resulted in the diminishing of the shareholdings of its primary partners in the Queen's Wharf Brisbane project – Hong Kong Stock Exchange-listed Chow Tai Fook and Far East Consortium.
Under the new placement, the two companies' combined stakes have now fallen from 9.99 percent to 6.86 percent – at 3.4 percent voting power each.
This comes despite the two entities promising to inject some AU$80 million ($52.71 million), as part of the group's non-retail investor capital raising of AU$595 million ($405 million).
Chow Tai Fook and Far East Consortium each held 4.5 percent voting power prior to the dilution, however The Star's recent filing indicates that this dilution 'is temporary'. The companies had previously paid AU$245 million ($161.42 million) each to acquire their stakes back in 2018.
Each of the companies owns some 25 percent of the AU$2.9 billion ($1.91 billion) Queen's Wharf Brisbane project, expected to open in December of 2023. The Star owns the remaining 50 percent of the development.
Speaking previously about the equity-raising activity, CEO Robbie Cooke noted that the company was "extremely pleased and appreciative of the support", and that the new capital "will provide The Star with a strengthened balance sheet to deliver on its key strategic priorities and to meet the capital requirements provisioned for".
The Star has announced that the company is anticipating losses of up to $1.1 billion due to alleged anti-money laundering malpractice lawsuits and potential changes to the tax regime, while having reported a 1H23 loss of $861 million.