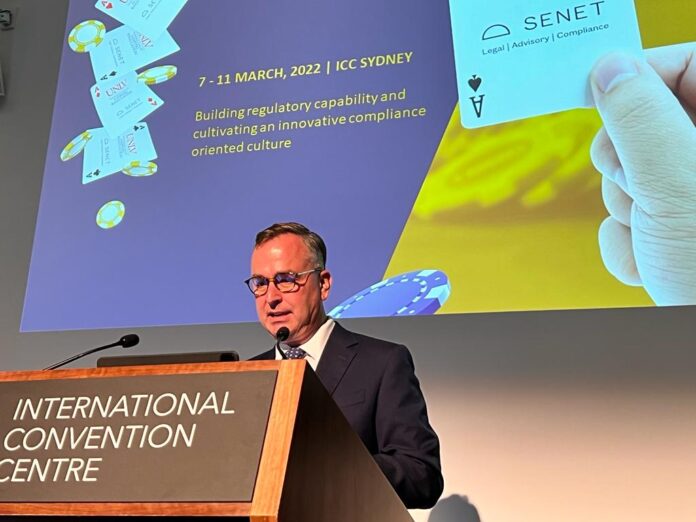 Crown Resorts' Group Chief Risk Officer Steven Blackburn concedes the company was guilty of many of the allegations brought by financial crimes watchdog, AUSTRAC, but said extensive work has already been carried out to solve the problems.
AUSTRAC last week announced it had begun civil penalty proceedings against Crown.
Blackburn was speaking at the Regulating The Game educational program in Sydney on Monday, where he discussed some of the remediation efforts at Crown to correct its prior failings and become a more proactive organization to fight against financial crime and problem gambling.
"You will certainly know… that AUSTRAC has commenced civil penalty proceedings in the federal court against Crown Melbourne and Crown Perth for alleged serious and systemic non-compliance with Australia's anti-money laundering laws and our counter terrorism financing laws."
"They're not just allegations. In many cases, they're right," said Blackburn.
"We can't resile from the fact that we did not have robust regimes in place to fight financial crime in particular."
AUSTRAC's allegations have been extensive, finding that the company failed to appropriately assess the money laundering and terrorism financing risks it faced. The regulator said Crown did not include in their AML/CTF programs appropriate risk-based systems and controls to mitigate and manage the risks.
They failed to establish an appropriate framework for board and senior management oversight of the AML/CTF programs, did not have a transaction monitoring program to monitor transactions and identify suspicious activity that was appropriately risk-based, or appropriate to the nature, size, and complexity of Crown.
The company did not have an appropriate enhanced customer due diligence program to carry out additional checks on higher risk customers and did not conduct appropriate ongoing customer due diligence on a range of customers who presented higher money laundering risks.
"A lot has happened in the last 12 months at Crown. Among other things, we've established and implemented a risk program to uplift our entire approach to risk management. We've established and implemented a comprehensive Financial Crime and Compliance change program. We've implemented enhanced controls to manage the risk of financial crime. And we've launched a new AML CTF program as well as an enterprise-wide risk assessment.
Crown has proactively, as Blackburn put it, implemented improved controls to prevent and detect money laundering through Crown's bank accounts, including controls to reduce limits relating to cash deposits at casinos.
However, Blackburn said it was encouraging for AUSTRAC, for the first time in respect of one of its enforcement proceedings, to publicly acknowledge that Crown is taking steps towards improving its systems, processes, and resources and that we are working together with AUSTRAC on ongoing compliance improvements.
"That's a step in the right direction, but it also acknowledges that this team has been working [hard] to get us to where we are today, which is a great deal ahead of where we were."
Earlier in the conference, Jamie Nettleton at Addisons said that AUSTRAC's allegations against Crown could carry a penalty of up to $22.2 million per breach, but that this was not likely to come to pass.