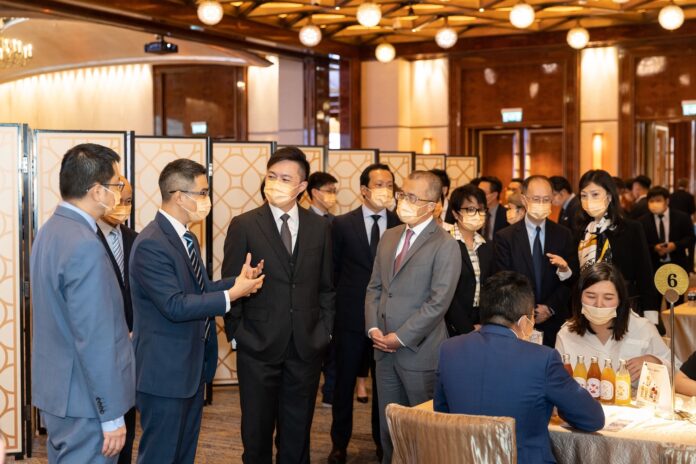 MGM China said it collaborated with Macao Chamber of Commerce (MCC) and 12 local youth associations to co-organize "MGM SME Business Matching – Young Entrepreneur Session", with the support of the Economic and Technological Development Bureau (DSEDT), Macao Trade and Investment Promotion Institute (IPIM) and Macau Productivity and Technology Transfer Center (CPTTM).
The event marks the 10th business matching session hosted by MGM and its 8th collaboration with MCC. During the event, representatives of SMEs showcased their products and services to MGM's respective departments one-on-one, effectively increasing the collaboration opportunities. Besides, MGM signed two cooperation agreements with two local SMEs on the same day, demonstrating MGM's pragmatic approaches to supporting local SMEs.
Following the ceremony, MGM inked a procurement agreement of over MOP 1 million with Fábrica de Farinha Kam Kei (Kam Kei) and a cooperation agreement with Fnetlink Technology Company Limited (Fnetlink), respectively. Since 2007, MGM has been partnering with Kam Kei, a local SME with almost 30-year history. All along, MGM has helped Kam Kei enhance its production line and food safety standards — which led to the firm attaining the ISO 22000 certification on food safety. MGM also actively joined hands with the Industrial Association of Macau and CPTTM to encourage and assist Kam Kei in securing M-Mark Macau Product Quality Certification last year.
On the other hand, MGM's partnership with Fnetlink marks the SME's maiden partnership with Macau's hotel. Fnetlink is a local SME supported by Science and Technology Development Fund. As a SD-WAN leading supplier, Fnetlink introduced Sensetime technology in Macau, offering smart management for public organizations and tertiary intuitions.
Kenneth Feng, President, Chief Strategic & Financial Officer of MGM, said, "With deep roots in Macau, MGM has devoted itself to stimulating the growth of local SMEs, with the support for 'Small and Micro Enterprises, 'Made in Macau' and 'Young Entrepreneurs' as our key focuses. Ever since the launch of the MGM SME program in 2015, MGM has purchased over MOP 5 billion from local SMEs. At present, over 30% of our total procurement spending goes to local SMEs, surpassing others within the industry. This Business Matching Session is dedicated to helping young entrepreneurs better understand the needs of the integrated resort, so that they can secure business opportunities with large enterprises in the future." 
Fred Ma Chi Ngai, President of MCC, said, "The key to Macau's long-term diversified development hinges on the healthy development and increasing the competitiveness of young entrepreneurs, who inject vitality and innovation into the local market. Under the current challenging business environment, this business matching session plays as an important and effective platform to support and cultivate young entrepreneurs, achieving win-win situations for all."
MGM has been working closely with local SMEs since its opening. Earlier in 2015, MGM and MCC jointly rolled out the MGM SME program and established the industry's first "MGM SME Committee", comprised of representatives of local business associations, with an aim to offer support and advice to SMEs. From 2016 to now, MGM has added 481 SMEs as its suppliers. In 2021, over 30% of MGM's total procurement spending went to local SMEs, up from 18% previously. In addition, MGM organized a total of 10 SME Business Matching Sessions, with a participation of over 1,100 SMEs. The Company also invited over 60 SMEs to participate in the Company's Back-of-House Roadshows, with aggregate sales of MOP 17 million.