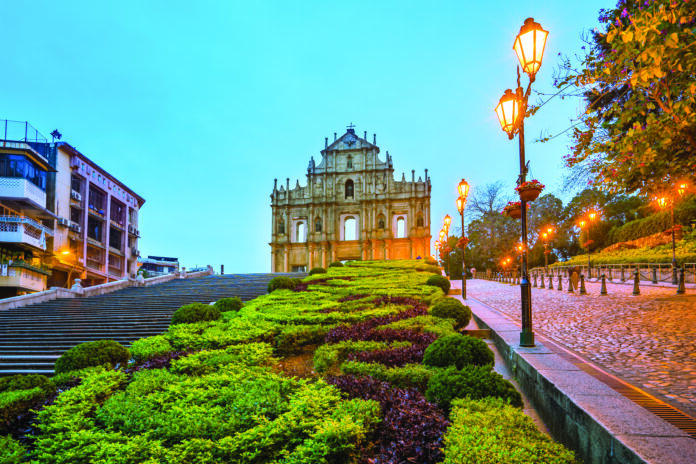 Lower operating costs and a better business mix are likely to have helped the bottom line of Macau's operators in the fourth quarter, despite continued low revenues, Morgan Stanley says.
The firm predicts positive corporate EBITDA of $420 million for the quarter from all companies combined, much better than in Q1 of last year when they made $100 million. Morgan Stanley said all the operators except SJM Holdings are likely to be positive on the EBITDA level.
Morgan Stanley notes the operators made significant cuts to operating expenditure after the pandemic hit, with daily operating expenses coming down by 38 percent in Q3 year-on-year. It expects a similar decline in the fourth quarter.
The companies have also seen a higher contribution from the mass market, which has led to better operating mix. VIP is expected to make up just 21 percent of gross gambling revenue in the most recent quarter, compared with 42 percent in the first quarter of last year.
"We estimate that VIP revenue declined by 83 percent in 4Q, while mass revenue declined by only 62 percent," it said.
Among the individual operators, Morgan Stanley expects Galaxy Entertainment and Sands China to benefit from non-gaming EBITDA, in particular from their retail offerings. The firm notes that retail sales for many luxury stores were already positive year-on-year in October at the two resorts.
The analysts also observe that slot contribution to GGR in Macau has been rising and now stands at 7 percent. However, slots' contribution to EBITDA is higher at 10 percent.
For the whole of this year, Morgan Stanley has already revealed that it is below the consensus estimate for the market, but expects outperformance in 2022. It sees 2021 corporate EBITDA of $6.4 billion, or 65 percent of 2019's levels. The market view is for EBITDA to reach 70 percent.
It also says it continues to see potential for downside in both numbers.
In terms of the implications for gaming stocks, Morgan Stanley says stocks are likely to remain "sluggish" until there is a bottoming out of 2021 earnings revisions.
Capacity expansion, Chinese exploration and concession extension are likely to lead to outperformance of Macau's gaming stocks in the second half of this year.
"Morgan Stanley says it remains upbeat and its estimates are 5 percent above the consensus for 2022."
The firm sees 2021 gross gambling revenue of $24 billion and corporate EBITDA of $6.4 billion. That's 65 percent and 70 percent of 2019 levels, which it says is below consensus for 70 percent and 75 percent of the prior amounts.
However, Morgan Stanley says it remains upbeat and its estimates are 5 percent above the consensus for 2022.
The first reason for optimism is the return of Chinese travel, with the government discouraging travel to overseas destinations, potentially benefiting Macau.
"One third of Asian gaming revenue comes from outside of Macau, part of which is contributed by Chinese consumers and could come back to Macau, with recently unveiled criminal law also making it more difficult for overseas countries to solicit Chinese consumers."
Economic indicators in China are also pointing to pent up luxury demand and for nominal Gross Domestic Product next year to be 22 percent higher than in 2019. Given the historic correlation between GDP and Macau's GGR, the numbers suggest gambling revenue could reach $47 billion in 2022.
Morgan Stanley is also predicting that concern over concession renewal will be lifted this year. The concessions come up for renewal in 2022, but the firm argues the government will take the decision to extend the licenses for a further three years from the middle of the year, removing the overhang on stocks.
It says that there is now not enough time for a law to be passed, for the public to be consulted and to prepare the re-tendering process before the concessions expire in June 2022.
"We expect US-backed concessionaires to be re-rated higher if all licenses are extended," it said. " Local stocks outperformed US-based names by 16ppts in 2020."
The third reason to drive demand and provide upside to share prices is also likely to be capacity expansion, Morgan Stanley said. The Londoner comes online in February, while SJM Holdings Grand Lisboa Palace will add 1,900 rooms later in the year. Galaxy Entertainment's Phase 3A expansion will also add 800 luxury rooms.
"Macau stocks tend to outperform when the industry adds significant hotel capacity (number of rooms), since these drive overnight visitors and premium mass revenue," it said. "Stocks also tend to outperform 6-12 months before the opening of mega casino openings. We expect 2021 to be an important year in which both of these activities drive outperformance for Macau stocks."
---
Macau police indicts four over chip fraud
Macau's Judiciary Police has announced that it has indicted four local residents for fraud over the sale of HK$1.47 million (US$189,790) in fake VIP gaming chips to two businessmen, while a fifth suspect remains at large. According to Macau Business the victim agreed to an offer to buy the chips at a discounted rate as he needed to pay off a gambling debt. He was told the counters were fake when he took them to another VIP room to pay his dues.
---
Operators pay annual bonus despite pandemic
All six of Macau's casino operators have said they will pay a one-month bonus to their non-management staff despite crumbling revenues due to the Covid-19 crisis. Commenting on the bonus, MGM co-chair and director Pansy Ho thanked staff for remaining united during a challenging year. "Looking into 2021, MGM will continue to invest in our team members. With our innovative mindset and courage to change, we will achieve greatness together with Macau this year." Melco Resorts & Entertainment Chairman and CEO Lawrence Ho said the bonus recognizes the hard work, loyalty and dedication of staff. "We appreciate our colleagues' every contribution during this difficult time as we continue to stand as one to weather the challenges in the new year with optimism and courage."