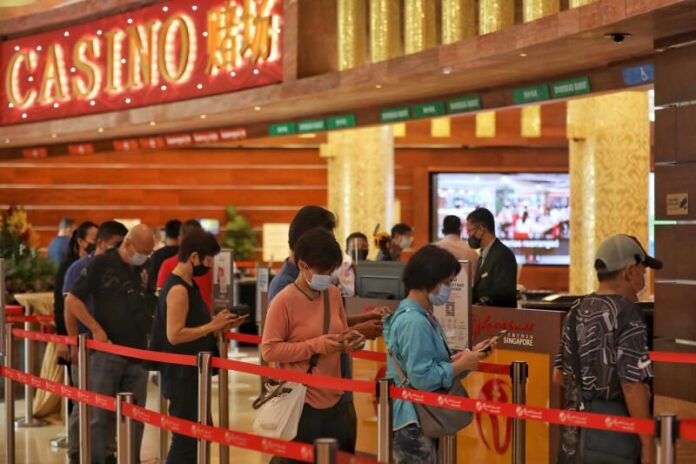 Just as the world was beginning to show signs of stepping out of the Covid-19 pandemic era, a new, more contagious version of the virus has now made its way onto the global stage. The World Health Organization (WHO) says could become the dominant strain within months.
Today, we are again giving a quick snapshot of the industry (casinos open /closed) on a country-by-country basis as of August 2, 2021.
Macau's 41 casinos, which are run by six concessionaires are all currently open, though the country has continued to bar entry of all foreign tourists with the exception of mainland China.
Last week, four provinces in China were added to a watch-list due to an outbreak in those areas, which requires visitors from those areas to under-go 14-day quarantine upon arrival to Macau, restrictions were also tightened for Chinese tourists travelling to Macau via air.
All properties are allowed to be open as of today.
The last few months has seen the Covid-19 situation in Malaysia deteriorate drastically, with new daily cases exceeding 10,000 for a number of weeks already. Since June 1, the country has been under a renewed nationwide lockdown, which currently has no set date of ending. Genting Malaysia is the sole casino operator in Malaysia.
Resorts World Genting has been closed since June 1.
The Metro Manila area will be placed under lockdown until at least August 20th to prevent the spread of the Delta variant. The region will go under General Community Quarantine until Friday, August 5th, but will tighten further to Enhanced Community Quarantine from August 6 to August 20.
Up until the last mandate, it was confirmed via phone calls last week that Okada Manila's casino is currently closed, whilst the casino at Solaire Resort and Casino is open for members only, and City of Dreams Manila is open by invitation only.
Despite a surge in covid-19 cases, Singapore said it has plans to begin border reopenings by early September. The city state has been able to boast a high vaccination rate with almost 50 percent of its population fully vaccinated.
However, the country has recently reintroduced a semi-lockdown, which includes a ban on dining-in and limiting the maximum number of people allowed to gather to 2. Though casinos have been allowed to remain open.
Marina Bay Sands casino has been closed until August 5 due to a cluster of cases.
Resorts World Sentosa is currently open but at "reduced guest capacity".
The lockdown in Nepal's Kathmandu Valley has been under lockdown since April 29, which has been extended until August 4, though restrictive measures have been relaxed over the last few weeks.
There are approximately 12 casinos in Nepal.
All casinos are currently closed.
Only three states have licensed land-based (including off-shore casinos) – Goa, Sikkim, and Daman. There are six offshore casinos in Goa, floating in the Mandovi river, whilst other casinos are located inside five-star hotels.
All casinos in Goa have been forced to be closed since May 9. This order is valid until August 2.
Sri Lanka was able to re-open places of worship, restaurants, cinemas, and hotels earlier this month, after two months Covid-19 lockdown. Despite a continuing rise in Delta variant infections, the government is looking to shed all coronavirus restrictions by September this year.
There are five gambling facilities in Sri Lanka, though they are still currently closed.
Laos is home to the Savannakhet Savann Vegas casino, Vientiane Dansavanh Nam Ngum casino, and Bokeo Kings Romans casino. The country has been under lockdown since June 19, which has been extended until at least August 3.
It is understood that casinos and gaming shops are not permitted to open.
Cambodia has recently announced a two-week nationwide curfew, which is expected to be in place from July 30 to August 12, and apply between the hours of 9am and 3pm each day. The curfew will not just apply to the capital city of Phnom Penh, but across all provinces.
Previously, restrictions have been centered mostly on its capital city of Phnom Penh, which has been under restrictions since June 4. Sihanoukville, however, has also been under a form of lockdown, banning all forms of large gatherings, including those on the gaming floor.
Nagacorp's NagaWorld in Phnom Penh has been closed since March and is expected to be closed until at least August 6.
It is understood that some casinos in Sihanoukville are open, but each are subject to a different policy on entry requirements.
All casinos in Poipet, Kampot and Bavet are closed, this includes Donaco's Star Vegas which has been closed since April 27, 2021.
Vietnam has locked down a number of its major cities, including Ho Chi Minh City and Hanoi amid a spread of covid-19 cases, putting about a third of the population under lockdown until early August.
Major operators in Vietnam include Donaco International, Suncity, Vin Group and Ho Tram Project Company.
All bars and clubs and slot parlors in Vietnam are closed.
Ho Tram has been open to hotel guests as of last week, but the casino is currently closed.
Corona Resort & Casino in Phu Quoc has been closed since July 19 until further notice.
Hoiana is currently open.
Aristo Vietnam has been open since May 2020 at reduced capacity.
Australia issues lockdowns on a state-by-state basis, however, the country has closed its international borders completely as of March 20, 2020, which has prevented the entry of international tourists since, with the exception of New Zealand residents.
Australia's largest state of New South Wales, home to The Star and Crown Barangaroo has been under lockdown since June 26. The lockdown is expected to last until the end of August.
Major casino operators in Australia include Star Entertainment, Crown Resorts, SkyCity Entertainment Group and The Treasury Group
All gaming venues in NSW are closed.
Gaming venues in Victoria have been allowed to reopen as of July 28 at reduced capacity.
Casinos and clubs in Queensland are also open, with restrictions.
Western Australia gaming properties are open.
New Zealand's only casino operator, SkyCity Entertainment Group, was one of the first in the region to reopen its casinos following the pandemic in 2020. The country has done well to contain the virus. It has however, ended its travel bubble with Australia due to a rise of cases there.
SkyCity operates four out of six casinos in the country, it operates casinos in Hamilton, Queenstown, and Auckland. There is a casino in Christchurch and another in Dunedin.
All properties are allowed to be open as of today.
Imperial Pacific International, which operates the only casino on the island of Saipan, announced a temporary closure from March 17, 2020. However, the casino has remained closed since then due to its license being suspended. 
Saipan's only casino is closed as of today.
Despite Russia recently hitting a new virus death record earlier this month, the government is reportedly not considering any new lockdowns, though casinos in Russia's Primorye and Siberia zones are required to operate with coronavirus countermeasures, including body temperature checks, the mandatory wearing of masks for all employees and patrons, the installation of hand sanitizers, and various social distancing measures.
All properties are allowed to be open as of today.
Japan has no casinos as of today. Instead, its citizens are treated to pachinko parlors throughout the country, which offers a gambling-like entertainment experience.
Despite the country declaring a state of emergency just weeks before the 2020 Tokyo Olympics (currently being held in Tokyo), which continues today, there has been no closure order for pachinko parlours.
All properties are allowed to be open as of today.
South Korea has recently tightened its social distancing rules across the country, warning that its most recent Covid-19 wave could spread further due to the summer holiday season. The heightened alert however, has not prompted the closure of any casino operations.
All properties are allowed to be open as of today.
Have you picked up an inaccuracy in our list? Email us at [email protected].