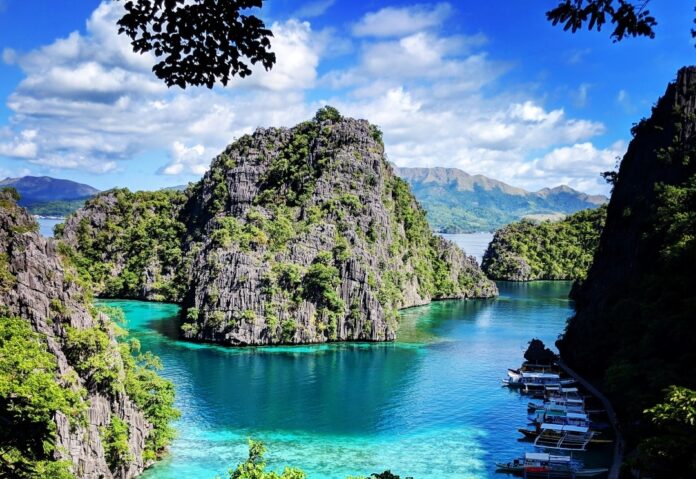 The emergence of the Omicron variant has derailed plans for the Philippines to reopen to international tourism, but operators are looking forward to a brighter 2022 as lockdowns ease and locals resume travelling.
The country was one of the worst hit in Asia when it came to Covid numbers, forcing lengthy lockdowns. However, its economic recovery has continued, with gross domestic product growing 7.1 percent in the third quarter. That was a slowdown from the 12 percent jump recorded in 2Q21, but handily beat economists expectations for growth of 4.8 percent.
The lockdowns are now gradually easing as Covid cases come down and vaccination numbers rise, although a plan to reopen international borders to tourists from Dec. 1st has been delayed due to concern about the heavily mutated Omicron.
The government is aiming for a 70 percent vaccination rate by the end of the year, though that level is already much higher in the Metro Manila area.
"Referring to the last 18 months as challenging would be a gross understatement to say the least, with the closing of borders, repeated lockdowns and local restrictions causing significant disruption to all businesses, especially hospitality," said David Lawrence, casino general manager at Thunderbird Resorts. "The Philippine casino industry has been severely affected, the same as all other licenced jurisdictions across Asia. The only saving grace is that the Philippines has a very strong local market, which has managed to help operations just about keep their heads above water."
In Q3, the Philippines gaming industry generated PHP26.9 billion ($533 million) in gross gambling revenue, taking the total for the year so far to PHP77.8 billion. That's a significant improvement from the PHP17 billion reported for the same period of the prior year.
Nearly all segments performed better, though the biggest recovery was in casinos in Manila's Entertainment City, which posted revenue of PHP19.3 billion, up from PHP12.9 billion a year earlier.
Angel Sueiro, chief operating officer of PH Resorts Group, also said he expects a strong rebound of the domestic market in December and sees this as being sustainable. 
"Unfortunately, it's becoming impossible to predict what will happen next year for the foreign, but based on the actual vaccination rates and the government's efforts to establish "travel bubbles" we hope that some of the strategic markets will reopen again, for example, South Korea."
One market that most likely will be missing once borders reopen will be the Chinese. Prior to the pandemic, Mainland China was the second-largest inbound tourism market and the fastest growing. Beijing is not expected to reopen its borders in the near future and even when it does, it remains to be seen whether the Chinese will travel to gambling jurisdictions given an ongoing crackdown on capital outflows for gambling purposes.
Beijing has a blacklist of jurisdictions it sees as enticing its citizens to gamble and although the list isn't public, the Philippines is widely expected to be on it.
"The impact of the China traveller restrictions will be significant and will force the operators to look for new players in other countries, with increased efforts on Korea, Japan, Indonesia and expat Chinese living in Malaysia and Singapore," Sueiro said.
"There will also be an increased focus to maximise revenue coming from mass and premium mass and to translate the land-based experience to the online space."
The Philippines Amusement & Gaming Corp. (PAGCOR) began issuing licenses to open up its domestic market to online gambling in late 2020 to help combat illegal gambling at home and to raise revenue to refill depleted government coffers.
The changes also allow land-based casinos to accept bets online, however progress on rolling out such operations has been fairly slow.
Still, it's an option that most are considering, especially given the fact that some restrictions are likely to remain in place as Covid lingers.
"Even as business improves we expect some level of Covid protocols to remain in place for the foreseeable future so we need to adapt our operations to allow for this," Lawrence said. " We also expect to explore all options to maximize revenues, be this new products, online etc."
Three of Manila's integrated resorts – Solaire Resort & Casino, City of Dreams Manila, Resorts World Manila – are already offering online games to members. Okada Manila has also been granted a license.
Announcing its 3Q21 results, Melco Resorts & Entertainment said it had begun online live dealer operations from August 10 and online slot machines from Sept. 15 after gaining PAGCOR approval.
However, on a subsequent conference call, management said it was still unclear whether they would be allowed to continue the business post-Covid, or whether these were special circumstances.
"It is a nice to have add-on to our business there during Covid," Melco President Evan Andrew Winkler said on a analysts' conference call. "We anticipate that in the near term it will continue to be allowed. We are working with the government in the hopes that it will continue to be an opportunity for us potentially longer term, but it's a little bit early for us to comment."
In 3Q21, PAGCOR reported income of PHP613 million from electronic gaming, with a PHP1.2 billion gain from eSabong, or cockfighting.
One date for the calendar next year in the Philippines will be the presidential elections scheduled for May. President Duterte will be stepping down and the policies of his successor may have implications for the industry. So far the candidates have not been vocal about casinos, or online gambling.
Duterte himself swept into power declaring war on online gambling, but then backtracked leading to the emergence of Philippines Offshore Gaming Operator licenses. He also announced a moratorium on new casinos in 2018, but has now lifted that, as well as allowing domestic online licenses.