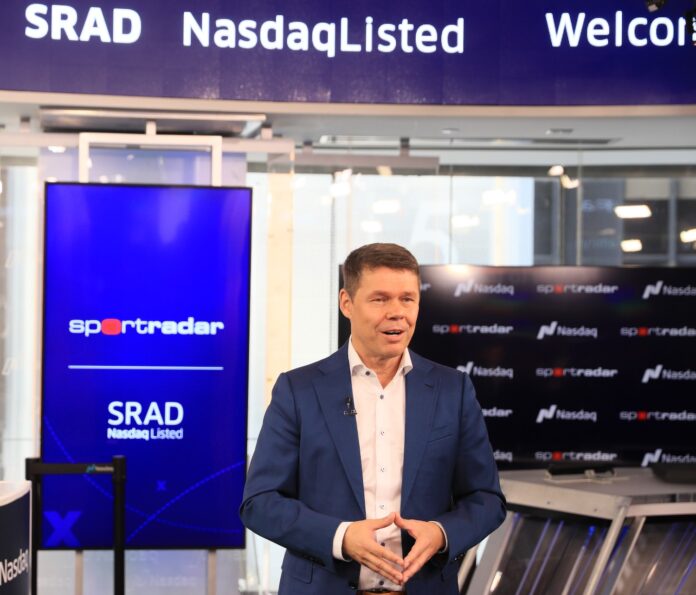 Sports betting and technology company Sportradar has reported a 30 percent growth in annual revenue, exceeding its expected outlook, reaching $781.3 million, driven by 78 percent growth in the US and 26 percent growth in the Rest of World (ROW) betting.
Despite the increase, the group saw a slight drop in profit for the year, at $11.11 million, compared to $13.54 million in 2021.
However, adjusted EBITDA did rise, by some 23 percent, to $134.6 million, just within the company's expectations.
Looking forward, the group is now expecting for revenue to reach between $954.1 million and $973.2 million, while adjusted EBITDA is estimated to reach $166 million to $176 million.
Speaking of the results, Sportradar CEO Carsten Koerl noted: "I am very pleased with our strong results driven by exceptional execution this past year. We saw excellent performance across all of our key performance metrics despite challenging macroeconomic conditions including a second consecutive quarter of positive Adjusted EBITDA in the US."
Of note during the year were the group's new or ongoing agreements, including with FanDuel for official NBA data, with racing group NASCAR, with Australian premier cricket competitions and Tennis Data Innovations, as well as its acquisition of AI and iGaming solutions company Vaix.
In the fourth quarter, the group was also able to repay its remaining $232 million in outstanding debt, leaving it debt-free as it entered the new year.
4Q22
Looking at the group's fourth quarter results, the United States market brought in $43.58 million in revenue, up 77 percent yearly 'driven by an increase in cross-selling non-data products to betting operators' and the overall market size increase as more US states legalized betting.
The group returned to adjusted EBITDA profit in the US, totaling $4.55 million, compared with a loss of $8 million in 4Q21.
Rest of World betting revenue was up 29 percent yearly, to $112 million, boosted by sales of the group's Managed Betting Services (MBS) – which was up 83 percent yearly to $40.5 million – supported in part by the FIFA World Cup.
The group's audiovisual segment also expanded in 4Q22, with revenue up 17 percent, to $44.22 million – both from cross-selling content and increasing portfolio sales to current customers. Segment adjusted EBITDA was up 20 percent yearly, to $12.6 million.
The group also recently announced it was successful in its bid for the global Association of Tennis Professionals (ATP) data and streaming rights, starting from next year.
Shifting distribution model
Looking at the results, analysts from Regulus Partners note that the group is 'succesfully and profitably shifting from a waterfront betting content distribution model to a rights-led model', noting that the recent ATP bid was a 'major rights-led step forward'.
The group notes that this model could be complicated 'in the long-tail of betting operators which Sportradar historically serviced effectively'.
It notes that the increase in regulated betting, especially in the United States makes its focus shift 'inevitable as well as manageable' but that the change could still 'be potentially highly disruptive to the supply chain'.
'Another key question to answer,' note the analysts 'is the extent to which Sportradar can add value to betting operators over and above providing an efficient data and odds pipe or solving a unit cost problem in trading'- but it notes that the group appears to have this issue firmly in its scopes.