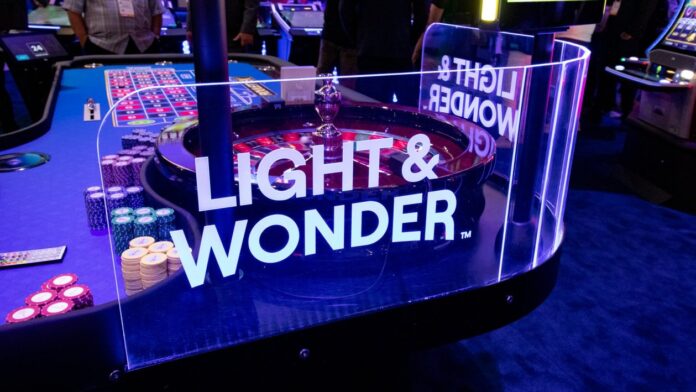 Gaming behemoth Light & Wonder has announced solid increases in both revenue and adjusted EBITDA for the fourth quarter of 2022, up 17.58 percent and 22.68 percent respectively.
The group's revenue totaled $682 million during the quarter, while adjusted EBITDA (AEBITDA) amounted to $265 million. Despite the increases, net income fell from $62 million in 4Q21 to $21 million in 4Q22.
The group's Gaming segment continued to be the main revenue and AEBITDA driver during the quarter – registering an 18 percent yearly profit increase to $438 million, and an AEBITDA increase of 29 percent, to $215 million.
The group notes that the gaming operations 'benefited from year-over-year growth in our north American installed base and elevated average daily revenue per unit'.
But the group's other segments performed admirably, with SciPlay recording record quarterly growth, as revenue rose 18 percent to $182 million and AEBITDA increased 24 percent yearly to $48 million.
Regarding SciPlay, the group notes the record-breaking was driven by the 'core social casino business as well as the Alictus acquisition'. Light & Wonder acquired Alictus in March of last year. The group achieved a record number of payers, at 600k during the quarter.
The group's iGaming arm also saw an AEBITDA increase of 27 percent (to $4 million), while revenue rose 15 percent yearly to $62 million, 'primarily reflected by continued growth momentum in the US market' – which delivered 41 percent year-on-year revenue growth.
The group notes that wagers processed through its iGaming platform increase to $19.2 billion in the quarter.
2023 results
Overall, the group saw increases across the board in FY23, with revenue up 17 percent, to $2.51 billion and AEBITDA rising by 15 percent yearly to $913 million.
The Gaming segment saw a 21 percent rise in revenue and 16 percent increase in AEBITDA, reaching $1.6 billion and $767 million, respectively.
The group's SciPlay division saw a revenue rise of 11 percent to $671 million, while AEBITDA increased by just $1 million annually, to $187 million.
iGaming revenue increased by 6 percent and AEBITDA rose 7 percent, to $240 million and $80 million, respectively.
The group notes that Gaming revenue growth saw 'robust recovery and continued moment approaching pre-COVID levels', while SciPlay's business was 'exceeding market growth' and the iGaming segment 'demonstrated strong performance enabled by US gross gaming revenue growth and our original content offerings'.
Both the SciPlay and iGaming divisions recorded record revenues during the period.
Despite the increases, the yearly loss totaled $176 million, down from a profit of $24 million in 2021.
Speaking of the yearly results, the company's President and CEO, Matt Wilson, noted that "2022 was a pivotal year for Light & Wonder. We delivered on an ambitious and transformative plan while driving operational success and double-digit growth in our business".
Looking ahead, the CEO notes that "we are excited about our future and see strong momentum continuing in the business in the year to come".