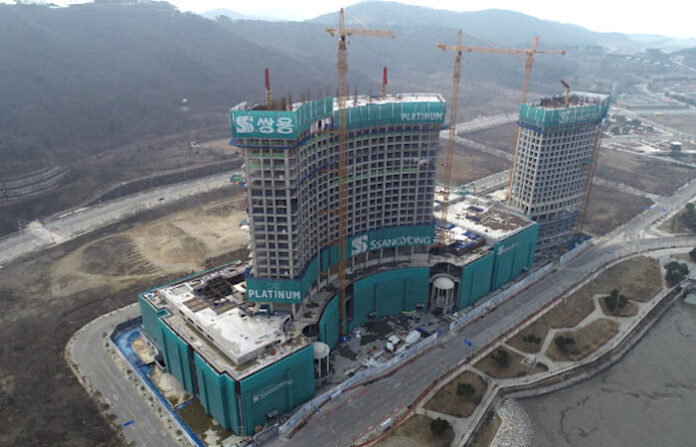 The credit rating of Guangzhou R&F Properties, which is building an integrated resort in South Korea, has been downgraded to a level indicating the company is near default following a distressed debt exchange.
At Fitch, the issuer default rating has been changed to C from B- with the same rating also assigned to its R&F Properties (HK) unit. Moody's has cut Guangzhou R&F to Caa2 and R&F HK to Caa3.
The downgrades follow Guangzhou R&F's announcement that it has launched a tender offer and consent solicitation to either reduce the price payable on the principal of its $725 million senior notes due 13 January 2022, or extend the maturity of the notes.
Investors have the option to be immediately paid $830 plus accrued interest per $1,000 of principal amount of the notes. Alternatively, only 50 percent of the principal payment will be repaid on the due date and the remaining 50 percent will be extended by six months to 13 July 2022.
Fitch said the transaction falls within its definition of a distressed debt exchange. If the tender is completed the company will be downgraded to "restricted default."
"The negative outlook reflects the company's weak liquidity with high uncertainties over its ability to generate enough cash flow to repay its maturing debts over the next 6-12 months amid challenging operating and funding conditions, despite the company's plans to accelerate property sales and asset disposals," said Moody's analyst Alfred Hui.
The company has been caught up in China's crackdown on the real estate sector and the subsequent liquidity crunch.
Guangzhou R&F became the sole investor in the Midan City Project in Incheon after Caesars Entertainment, its operating partner, pulled out earlier this year. Caesars said it had sold its stake for the price of some barbecued pork.
The project is currently stalled.
The resort was to feature a luxury hotel offering 720 rooms, suites and villas, a conference centre, foreigners-only casino, multiple live entertainment venues, F&B establishments, spa, fitness center and indoor-outdoor pool.
Midan was one of at least three IRs planned for Incheon. Paradise City, a joint venture between Sega Sammy and local operator Paradise Co. is operational, while a second from Mohegun Sun is under construction.