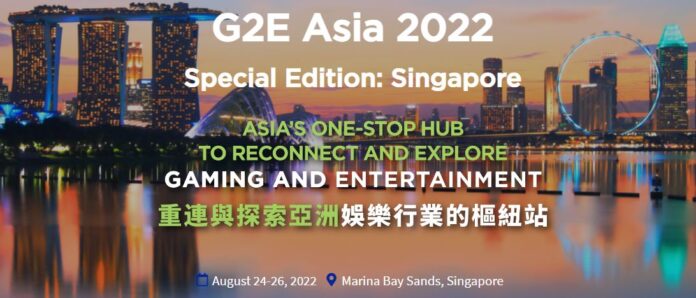 Three days power-packed event scheduled from Aug 24 till Aug 27 is all set to conduct a host of events including meetings, interactions, conference and exhibitions at Marina Bay Sands, Singapore.
Ed Bowers, President of Global Development MGM Resorts International Representative Officer, President & CEO MGM Resorts Japan LLC, will deliver Keynote address, to mark an opening of an event.
This is the first G2E Asia event post-pandemic, after the one last held at Macau in year 2019.
The event aims to provide a marketplace for the Asian gaming-entertainment industry, offering a one-stop platform to the industry professionals to network, source new products, and gain insight into the latest global industry trends. 
Conference
The conference program spreads over three days will comprise of 33 full-length sessions to be addressed 41 key-speakers in a roll of sessions to focus on Asian Market perspective on Wednesday, Aug 24, 2022.
Organized by the American Gaming Association (AGA) and Reed Exhibitions, G2E Asia was renowned as a key gaming and entertainment business hub across the continent.
Exhibition
The event's exhibition aims at covering a wide range of sectors: Compliance, Components for Machines, Computer Hardware, Consultants, Digital Display & Lighting, Entertainment & Hospitality, Equipment, Esports, Facilities / Maintenance, Gaming Software & Systems, Green Technology / Solutions, Gaming Equipment, IT & Business Solutions,  Publications, Security / Surveillance, Services, Slot Machines, Sports Betting, Table Games & Accessories, Video Gaming Machines.
Exhibitors to showcase from several verticals including, Smart IR Solutions, Training, Management & Consultancy Services, Testing & Certification, Table Games & Accessories, Sports Betting, Slot Machines, Parts & Components for Gaming Machines, Marketing / Promotions, Lottery, IT & Business Solutions, Gaming Furniture, Gaming Peripherals & Accessories, Gaming Software & Systems, Gaming Equipment, Gaming Content, Software and Technology, Financial Technology, Facilities / Maintenance, E-Sports, Entertainment, Electronic Payment Process, Digital Display and Lighting, Compliance, Clubs & Bars Equipment and Services and Caga & Finance, will participate and display their products to showcase in an event.