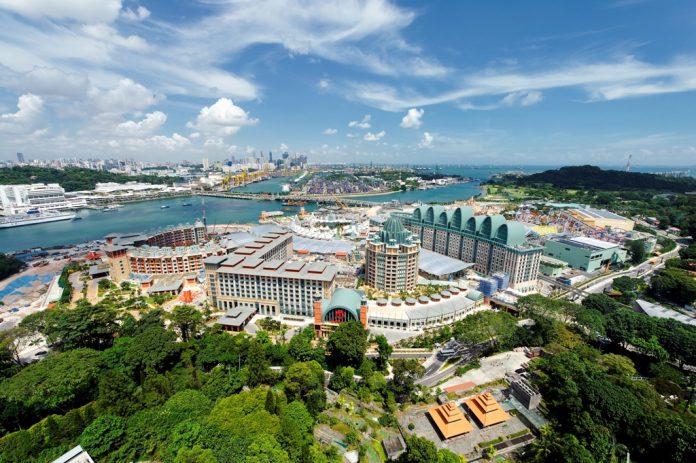 Integrated resort operator Genting Singapore reported a 220 percent increase in its net profit after taxation to SGD129 million ($97 million) for the first quarter ended Mar 31, 2023, from SGD40.4 million ($30.3 million) in the same period one year ago.
This came as revenue grew 54 percent on the year to SGD484.5 million ($363.2 million), from SGD314.5 million ($236 million) previously, said the Singapore-listed company, which owns Resorts World Sentosa (RWS), in a quarterly business update on Friday.
Genting Singapore said that at the property level, RWS has "continued to benefit from the ongoing recovery of regional travel and gaming demand. On a hold-normalised basis, gross gaming revenue improved 12 percent quarterly" to SGD530 million ($397 million).
"The recovery of non-gaming business was constrained by lagging overseas visitor arrivals from our traditional visitor source markets. Airline capacity constraints have continued to cap incoming mass leisure tourist traffic," noted the company.
The fact that airfares during the festive seasons were elevated, which affected visitor volume for the attractions, resulted in a 15 percent dip in the overall non-gaming revenue from the previous quarter.
The company's secretary, Liew Lan Hing, stresses that the group is pursuing its "RWS 2.0 strategy", while Genting is "committed to enhancing RWS' brand".
The initial stage ("RWS 1.5") involves re-inventing and innovating its facilities to upscale RWS' destination appeal and achieve better demand from target markets. This included renovating 389-rooms were fully and the rebranding of Festive Hotel as Hotel Ora for young and mobile-oriented guests with sustainable guestrooms and workspaces. The revnoated venue was soft launched and started receiving guests in April 2023.
With the opening of Hotel Ora, the resort's overall room inventory now stands at almost 1,600 keys. Other hotels such as Hotel Michael and Crockfords Tower will be renovated in phases.
Liew Lan Hing also mentions that the Forum at RWS, the central cluster which serves as the integrated resort's first port of call for visitors, will undergo an extensive transformation from May 2023. The group is targeting completion by the end of 2024, saying The Forum will be elevated into a 'vibrant and sophisticated central lifestyle connector'. Its gross floor area will more than double to around 20,000 sqm over three levels, providing a wide variety of upscale restaurants, specialty shops and iconic concept stores.
Ongoing construction works for RWS' 2.0 strategy also include Minion Land at the Universal Studios Singapore and the Singapore Oceanarium, which the group says are progressing well with a soft opening scheduled for early 2025.