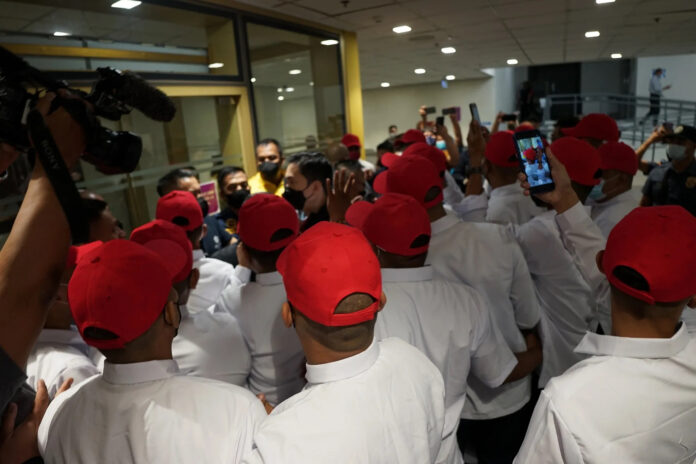 Pagcor has ordered the group of Antonio "Tonyboy" Cojuangco to stop running the operations of Okada Manila, who in turn expects a favorable outcome from the Court of Appeals, local media reported.
Tiger Resort Asia Ltd. (TRAL) said on Monday that it reinstated the "legitimate" board members in Tiger Resort Leisure and Entertainment Inc. (TRLEI), operator of Okada Manila, following the order of Pagcor, signed by acting corporate secretary Jessa Mariz Fernandez.
Cojuangco was appointed president of Okada Manila by Kazuo Okada after their takeover of the casino hotel resort last June in line with the status quo ante order issued by the Supreme Court.
"We believe that the order from the Pagcor affirms our position in the intra-corporate dispute in Okada Manila. It is consistent with both the letter and spirit of the SQAO of the Supreme Court. We are hopeful that both the High Tribunal and the Court of Appeals will agree, and this issue can be put to rest very soon," TRAL Director Kenshi Asano said.
TRAL, which owns 99.9 percent of TRLEI, said the management and operations of Okada Manila were turned over to its appointed board officials led by TRLEI president Byron Yip and that Okada Manila is fully under its control now.
However, TRAL officials said Japanese gaming tycoon Kazuo Okada will still be recognized on the board "for now" in view of the SQAO issued by the Supreme Court last April 27, 2022, which temporarily restored him as a shareholder, director, chairman, and CEO of TRLEI.
"His fate will be decided by the Supreme Court once the Court of Appeals submits its findings to the said Tribunal pursuant to an earlier Resolution it issued," TRAL said.
While it has successfully retaken control of the management and premises of Okada Manila, TRAL said it will remain focused on resolving the matter with finality.
"A favorable outcome will help the Philippines regain the trust of international investors," Asano added, as reported by the Manila Times.