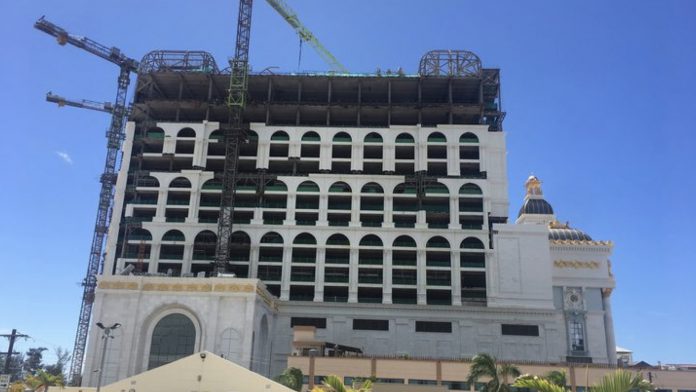 Imperial Pacific International (IPI) posted a narrower loss of HK$690.8 million for 2021 and set out a series of steps it plans to take to turn around the business and complete the Saipan resort.
The Hong Kong-listed company said its loss narrowed from $7.39 billion a year earlier, mainly due to a lack of operating expenses as the resort has been closed since March 2020. It recorded zero revenue for the year.
IPI's casino license has been suspended since April last year and regulators will consider in May whether to revoke the permit entirely. The company has failed to pay its casino licensing fees and other obligations and is facing numerous outstanding lawsuits from contractors and other suppliers seeking payment.
Despite the obstacles, IPI said it's optimistic that it will be able to continue as a going concern.
The company said it has been actively negotiating with the Commonwealth Casino Commission over the $15 million license fee it owes, as well as a $30 million contribution to the community benefit funds, as well as fees and penalties.
It said it has spoken with major creditors to seek the extension of expiry deadlines to 2024 and beyond. It is also exploring the possibility of settling bond-related debt through the issue of new shares.
"An independent financial institution" has also given an indicative offer of a credit facility of US$100 million, which could be available until September this year. In addition, an entity named Inventive Star and other parties have agreed to provide funding to cover its casino license fees and other potential costs related to pending litigation.
On an operational front, the group said it plans to enter an accord with a third party over an 8,000 square meter shopping mall at the resort for four years. The third-party has undertaken that the mall will generate minimum annual revenue of HK$300 million and that the group will be entitled to 51 percent.
Another accord with a construction company will enable the completion of the Imperial Palace resort.
It said it has also reached an agreement with a travel agent which will underwrite the leasing of 250 hotel rooms and 15 villas for four years at an average rate of $1,060 per room and $2,400 per villa.
The group said it believes if all of its financing plans proceed, it will have sufficient funds for the next 12 months. However, should the financing be unavailable it may no longer be able to continue as a going concern.
IPI also referred to an ongoing investigation by the U.S. Financial Crimes Enforcement Network (FinCEN) and warned that if the agency finds it to be in breach of regulations it may not be able to continue operation of its gaming business and may not be a going concern.