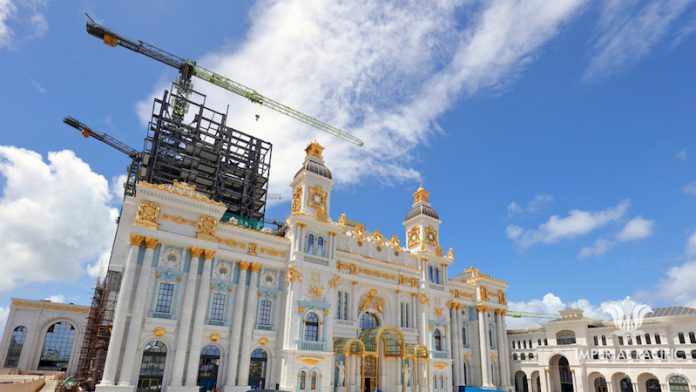 The Commonwealth of the Northern Mariana Islands Department of Public Works (DPW) has informed Imperial Pacific International (IPI) that its hotel and casino project in Garapan, Saipan, is in violation of the Building Safety Code and must come to an immediate halt.
IPI told the local media that the order was provoked by a "lack of certain paperwork," but like much else connected to IPI and the CNMI regulators, the precise facts are in dispute, though the accusations themselves are jaw-dropping.
At present, it appears that IPI has been allowed to proceed with construction of its massive casino hotel for at least a year in absence of any finalized and government approved construction plans.
The Commonwealth Casino Commission recently stated at a board meeting that the DPW had been "trying" to get permit drawings from IPI, but perhaps for much longer than that. If so, it is yet one more mystery why CNMI regulators have been so negligent in ensuring even the basic elements of compliance from the casino operator.
Representative Tina Sablan, the local lawmaker who has been most tenacious in pursuing IPI and government negligence, demanded to know what was going on, stating, "If IPI doesn't have permit drawings, how are they building to code? What are they building to? How are they getting inspections? And how long has DPW allowed this to happen?"
In response, IPI CEO Donald Browne was quoted by the local media as saying that he's not involved with this issue, but that Sablan's "best bet is to ask DPW."
At any rate, the DPW does seem to be acting now, ordering the suspension of all work from Levels 3 to 14 of the hotel until shop drawings and revised plans are submitted to and approved by the building safety officer.
While the DPW has threatened IPI with "fees, civil penalties, or fines" should it not comply with its orders, the CNMI regulators' record on collecting fees and taxes from IPI has been less than stellar. This year alone, IPI has already failed to pay its US$15.5 million casino license fee and a US$3 million regulatory fee, not to mention delinquent payments to the Community Benefit Fund.
Finally, in another matter related to construction of the casino hotel, IPI executives have been complaining about workforce and security issues.
It was recently reported that excluding fifteen management staff, IPI currently has a total of 304 workers for the construction project, consisting of 234 H2-B workers and 70 locals. The H2-B workers are composed of 113 Mongolians, 87 Taiwanese, 30 Turks, and three Thais. However, the Covid-19 impact is said to be preventing some workers with needed skills from coming to the CNMI.
Also, IPI CEO Donald Browne has claimed that construction equipment and tools from the resort project site and its warehouses are being stolen on a daily basis, causing further delays and expense.