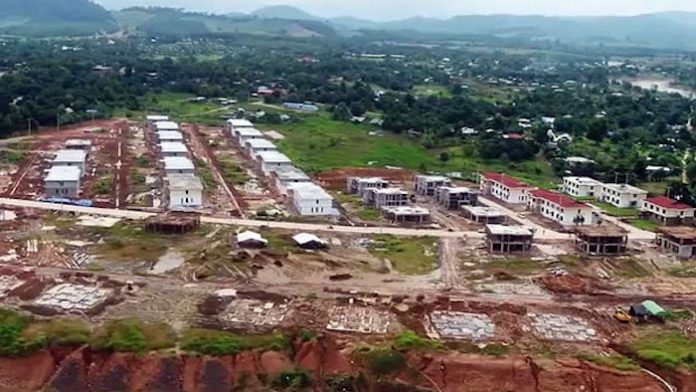 It's been billed as a $15 billion smart city, powered by the latest in blockchain technology, but in reality it has emerged as a major online gambling hub and the new home to many of the operations that fled Cambodia after a ban on the practice last year.
Yatai City, which was formerly a small village known as Shwe Kokko, is based in Myanmar's Karen state. It's one of three such projects that are backed by Chinese investment and which have claimed to be part of China's one belt one road initiative. 
Another is called the Saixigang Industrial Zone, which loosely translated means "surpass Sihanoukville," and is led by convicted triad member Wan Kuok-koi, also known as "Broken Tooth." He is now the chairman of the project's key proponent company, Dongmei Group.
The third is backed by China's Huanya International Holdings Group and the Association of Business Federations of Sihanoukville. 
As the world, including Myanmar's government, battled the Covid-19 crisis, these mega projects pushed ahead, raising concern from local people about the influx of Chinese nationals, a rise in organized crime and the impact on safety and security. The projects are in partnership with local armed militants in a state that has been fighting for independence from Yangon for decades.
"It is clear that the project will have little benefit for local Karen people," said a report by the Karen Peace Support Network. "They will be displaced off their land, with few job prospects in the new development. Based on the experience of similar Chinese casino "SEZs" in Laos, the area is also likely to become a hub of criminality, drug trafficking and money laundering," it wrote.
Yatai, which is backed by Hong Kong-based Yatai International Holding, was given permission in 2018 to build 59 luxury villas on 25.5 acres of land for $22.5 million. However, in 2019 it circulated a booklet to local residents outlining the scope of the development, which detailed plans covering 29,621 acres, with a $15 billion price tag. The first phase has already started.
After local outcry, Karen state officials carried out an inspection and ordered a temporary suspension of the project while further investigation was carried out. In practice, construction has continued unabated.
The United States Institute of Peace (USIP) called Yatai City one of the worrying developments, as "complex transnational networks of Chinese investors, forced out of Cambodia for illegal gambling activity, are relocating to Karen state to build three megacities as a hub for casinos"…
Yatai's promotional materials suggest that 60 percent of the project's revenue in the first three years will come from online gambling by operations targeted at Mainland China, USIP said. It put the potential size of the market at an annual $25 billion.
The non-partisan institute, founded by the U.S. Congress, said a list of companies operating within the Yatai New City Project is available online, with nearly a dozen feature names such as "entertainment," "golden technology," or "entertainment technology." Several of the enterprises on the list match the names of companies operating casinos in Cambodia.
The authors of the report were not available for an interview.
Most of the casinos in Sihanoukville sprung up to house live dealer operations targeting Mainland Chinese. Prime Minister Hun Sen ordered them to shut down from the beginning of this year after pressure from China.
Dongmei held an investor presentation in Kuala Lumpur earlier this year at which it said the Saixigang project will reportedly house an industry incubator, a Chinatown-themed commercial street, a leisure/entertainment zone, a resort and hotel zone, a market for auction of precious stones, a large amusement park, an international logistics hub, and a new science city."
Pledging a total investment of some $18 billion, Dongmei promised that "Myawaddy will surpass Cambodia's Sihanoukville in only three years."
The projects are also adopting blockchain technology to facilitate the movement of funds. Singapore's Fincy signed an accord in March this year to pilot its app for the city's residents and businesses for contactless payments and payroll disbursement. It announced it began the process of pulling out on Oct. 7th after a series of negative reports linking its app to online gambling.
"Fincy has at no point been involved in the recruitment of staff for the development of online gambling applications, nor have we developed or will develop in-app online gambling applications," it said in a rebuttal of media allegations last week.
"Fincy has a zero tolerance approach to illegal activity, particularly with respect to the circumvention of national financial laws to carry out money laundering and illegal gambling."
China has also sought to distance itself from the projects' attempts to shelter under the umbrella of the giant "one belt, one road" scheme. 
The Shwe Kokko New City in Myanmar's Kayin state "is a third-country investment and has nothing to do with the Belt and Road Initiative", the Chinese embassy in Myanmar said in a statement posted on Facebook.
Although there are several major investments underway in Myanmar, including railways and a deep sea port, Myanmar has been wary of wholeheartedly embracing Chinese investment.
China, which has been stepping up its efforts to clamp down on online gambling, has said it will step up its security cooperation efforts with Myanmar.