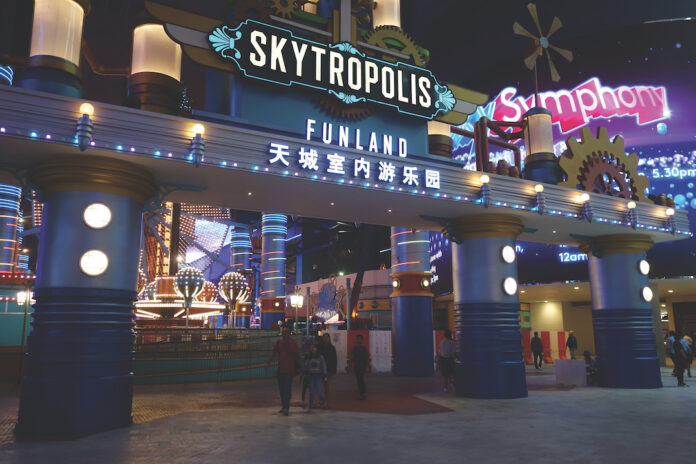 Labor limitations forced Resorts World Genting to operate at 60% capacity, and still, Genting Malaysia posted an EBITDA of RM620mn for 2Q22, at 94 percent of 2019's full-year figures. 
GENM's posted an annualized 2Q22 group EBITDA of RM620mn, at 94 percent of 2019's full-year figures.
Malaysia's cost rationalization during the pandemic brought EBITDA margins back to 35% which is comparable to 2018 levels, pre-gaming tax hike, J.P. Morgan's note reads. Malaysia (RWG) managed to achieve this result with only 60% of its hotel capacity.
"We believe RWG is able to achieve RM3-3.5bn once visitation normalizes, and it reaps the harvest of the Genting Integrated Tourism Plan (GITP), J.P. Morgan expects.
The brokerage argues there's "more room to drive higher spend/pax." RWG Malaysia attracted 5.2mn visitations in 2Q22 which is merely 72% of 2019 if annualized. Yet, annualized 2Q22 RWG Malaysia EBITDA is already at 90% of 2019. 2Q22 spend/pax was RM250, 17% lower than pre GITP.
"The current limitation is labor which forced RWG to operate at 60% capacity," the brokerage highlights. RWG has outsourced room keeping and has managed to open up more rooms (7,600 as of today vs. total capacity of 10k). More overnighters will boost spend/pax and thus profit, J.P. Morgan expects.
The brokerage also underlines that RWG is diversifying gaming options. In 2Q22, RWG introduced new gaming options that have successfully brought in younger gaming crowds. Sky Avenue is still recovering from the pandemic, and J.P. Morgan expects more shopping options to be available in 4Q22 onwards.
J.P. Morgan believes GENM's post COVID-19 profit recovery should be strong and FY22-25E growth is sustainable as the expansion of outdoor theme park starts to contribute fully.
GENM's growth prospects post-COVID-19 are underpinned by "sticky" demand and new facilities, which the brokerage expects should lift visitation by 50%, to 30mn pa by 2023E.
The opening of the new outdoor theme park, SkyWorlds, "could lift spend per visitor, as the ticket price is already 70% of historical spend per visitor," the investors' note reads, adding that the monopoly dominance, untapped Malay and young local Chinese demand and tourists support J.P. Morgan's bullish thesis.