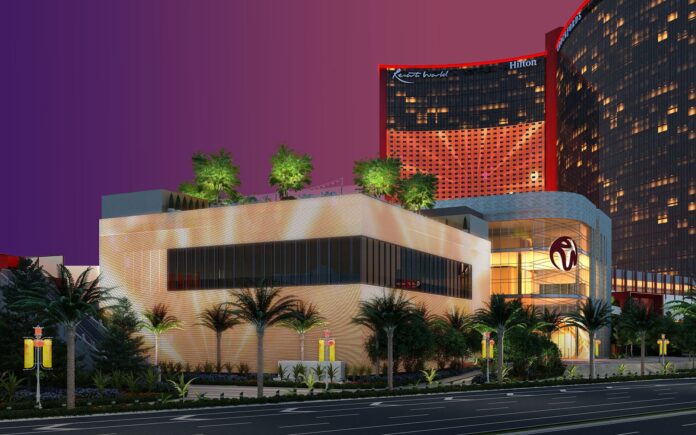 Genting Bhd. said revenue for the first six days of operations at its newly opened Resorts World Las Vegas came in at about $14.9 million, driven by "very strong" casino and food and beverage operations.
The Malaysian conglomerate opened the first new integrated resort in Las Vegas in more than a decade on June 24. The group has included its first six days of operations in its 2Q21 results, which were released on Friday.
Genting said EBITDA during the period was $3.9 million, while the hotel operations were at 71.2 percent with an average daily rate of $239. The company opened its doors to a crowd of 20,000 visitors and more than 5,000 VIP guests.
RWLV combines 3,506 guest rooms and suites across three hotels including Las Vegas Hilton, Conrad Las Vegas and Crockfords Las Vegas, over 40 food and beverage venues, world-class entertainment and innovative gaming technology, all prominently located on Las Vegas Boulevard. Additional amenities will be completed and opened in the third and fourth quarters, including The Theatre at Resorts World Las Vegas, Zouk Nightclub and the Spa.
Total development and land costs incurred as of 30 June 2021 were approximately $3.9 billion.
RWLV President Scott Sibella told AGB recently that the company is expecting 70 percent of its business to come from non-gaming amenities.
"Given what we know about today's Las Vegas traveler, we've seen somewhat of a paradigm shift and we're expecting 70 percent of our revenue to come from non-gaming amenities such as dining, entertainment and more," Sibella said. "While we will offer an incredible casino experience unlike anything else on the Strip and welcome the traditional gaming customer, our property was designed to resonate well with all types of guests and interests."
The resort opened amidst a strong rebound in U.S. gaming, with Las Vegas reporting record revenues.
The Las Vegas Strip saw its July GGR reach $793.7 million in the month, up 46.5 percent compared to the same period in 2019.
Analysts from Deutsche Bank weighed in on the surge, noting that on a sequential basis, this was a 30 percent increase in GGR from June and a 25.8 percent increase on a GGR per day basis.
Deutsche Bank said this was driven by a 35.8 percent increase in strip slot handle, and a 32.7 percent increase in table volumes compared to 2019.
Overall group revenue was RM2,93 billion, an increase of more than two-fold compared with the
previous year. The group, whose businesses also include plantations and oil and gas, posted adjusted EBITDA of RM958.9 million compared with a loss a year earlier of RM578.7 million on that basis.
Genting said the improvement in its revenue came mainly from a turnaround in the leisure and entertainment business, which had been mostly closed in the same period a year earlier.