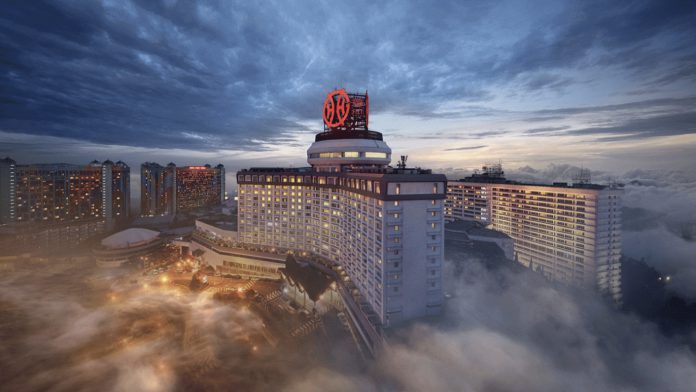 Behind the sea of red in Genting Malaysia's Q3 results, analysts found reason for cheer in the performance of its domestic operations, which generated a positive EBITDA of RM541 million ($133 million) in the quarter.
TA Securities analyst Tam Kan Meng said company executives on a conference call attributed the strength at home to support from local VIPs, who have been unable to travel overseas to gamble due to border closures. 
Total visitation to the hilltop resort returned to 66 percent of pre-Covid measures, with gaming revenue back to 74 percent. VIP players made up 64 percent of the total in the period. 
Leisure and hospitality revenue is down 34.2 percent year-on-year to RM1.2 billion, but that performance is "satisfactory," says Tam as the group has regained more than 60 percent of its prior levels, even with reduced capacity.
Still, TA Securities is cutting its forecasts for Genting Malaysia next year and says it expects the operating environment in the first half to be similar to Q3. 
It has cut its earnings projections for 2021 by 30.4 percent to RM499 million and for 2022 by 1.8 percent to RM1.4 billion. 
Analysts at CGS-CIMB were more upbeat than TA Securities, noting that they expect a recovery to be imminent and subsequently raised their forecasts.
For 2021, they raised their core earnings per share forecast by 3 percent and for 2022 by 6 percent, saying they are factoring in lower operating expenditure. 
"We see FY21F net profit recovering to RM563 million, then doubling in FY22F, as visitors fully return (partly bolstered by Genting SkyWorlds's mid-2021 opening)," they noted. 
Management have confirmed that they expect the outdoor theme park to open in the middle of next year. The much anticipated attraction was one of the central planks of the revamp of the resort. It has been delayed in part by a dispute with former partner 20th Century Fox. 
Nomura analysts also said they were pleasantly surprised with the performance in Malaysia.
"What really struck us [positively] was the revenue/margins generated by the Malaysian resort, with revenue at 66 percent and EBITDA at 79 percent of year-ago levels, and EBITDA margins of 36 percent in Malaysia," they said.
However, TA Securities reports management as saying that margin level is unlikely to be sustained in 2021 due to additional costs from running the theme park.
Genting Malaysia itself is maintaining a cautious outlook, warning that ongoing measures taken to control the pandemic will continue to have an impact on its business.
The government announced on Nov. 4 that several more states have been added to its Conditional Movement Control Order list and that the order had been extended to December 6 in the Kuala Lumpur area. 
Prior to the pandemic, the Genting Highlands resort had about 50,000 visitors a day. That number is currently at about 15,000 a day due to the latest clampdown.
In the U.K., the group's casinos were forced to close their doors again on November 4th, while its New York properties – Resorts World New York City and Resorts World Catskills were closed throughout much of Q3, reopening only on Sept. 9th.