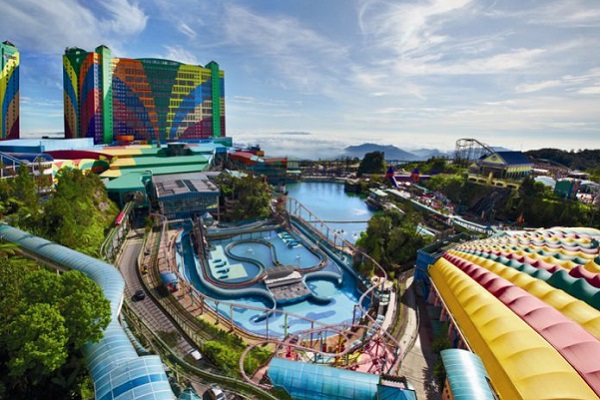 Analysts have turned more upbeat about the prospects for Malaysia's gambling operators, despite a recent upswing in new Covid-19 cases, saying the sector is good value as stocks are still down between 15 to 26 percent on the prior year. 
In a research note on the outlook for 2021, Nomura said it expects Genting Malaysia's Resorts World Genting to stage a gradual recovery over coming quarters with a "sharp inflection" from 2022 with the opening of its new outdoor theme park.
The Genting Highlands resort reopened in June and in Q3, revenue was already at 66 percent and EBITDA 79 percent of prior year levels. 
"This demonstrates local demand resilience as movement curbs were lifted in 3Q20 (70 percent of Malaysian revenue historically has come from locals), and the effect of cost rationalization undertaken by the group."
"While visitation dipped after October movement curbs, it rebounded towards year-end holidays again," it said. 
Nomura rates Genting Malaysia a "buy" and sees 24 percent upside for the stock this year.
The opening of the long-delayed theme park is seen as a key to driving visitation to the resort and was the crowning glory in the 10-year Genting Integrated Tourism Plan, which began in 2013.
Research house Kenanga Research was similarly upbeat, saying it sees strong local casino revenue due to the opening of the outdoor theme park.
"In all, we continue to rate the sector 'overweight' with Genting (TP: RM5.70) as our top pick for its deep value while for income seekers, both NFO players offer above-average yield of more than 5 percent," it added, referring to number forecast operators Berjaya Sports Toto and Magnum Bhd.
The firm said it expects NFO ticket sales to revert to pre Movement Control Order levels in the first half of this year, but said it does expect casino operators to take longer to normalize. 
UOB KayHian Research adds that the gambling stocks all have strong dividend yields, adding to their attractiveness for investors. 
"While both the casino and NFO subsectors' intermediate dividend payouts will be compressed by weaker earnings, investors should gradually price in the gaming sector's sustainable prospective yields of 4.2 percent to 7.5 percent from FY21 onwards. 
"Meanwhile, we also expect GenM to (pay) out lucrative dividends for 2021, given its lush gross cash of RM3.7 billion (RM0.62/share) and considering parent Genting's cash needs to complete the construction of Resorts World Las Vegas. This should satisfy investors' hunger for sustainable high-yield plays in a low interest rate environment and volatile capital market," the firm said.