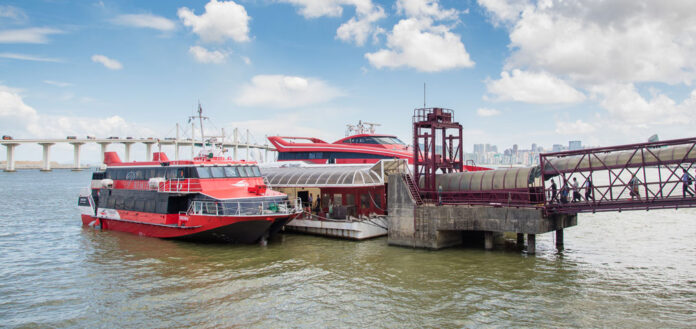 Shun Tak Holdings Limited announced on Monday the unaudited consolidated interim results for the six months ended 30 June 2021 posting a profit of HK$470 million, up from a loss of HK$279 million from the previous period.
The Board resolved not to declare an interim dividend in respect of the six months ended 30 June 2021
Gaming Investments
The Group reiterated that it is a long term investor in Sociedade de Turismo e Diversões de Macau, S.A. ("STDM"), and holds approximately 15.8% effective interest in the company as at 30 June 2021. STDM in turn, owns an effective shareholding of approximately 53.9% in SJM Holdings Limited. The latter is effectively entitled to a 100% economic interest in Sociedade de Jogos de Macau, S.A., being one of six gaming concessionaires licensed by the Macau SAR Government to operate casinos in Macau. Over the first half of 2021, dividends received amounted to HK$52 million (1H2020: HK$139 million), with the decline reflecting pandemic-induced.
Property
The company posted that after weathering the COVID-19 induced financial turmoil in 2020, the economy began to exhibit signs of recovery as the local pandemic situation stabilizes. Retail and domestic spending began to pick up with daily caseload hit near-zero levels and the government started to ease social-distancing policies. Residential property prices also held their ground during this period as buying sentiment improves. During the first half of 2021, the Group's Nova collection in Macau recorded satisfactory sales. Rental yield from its property investment portfolio also normalized after prolonged concessionary rentals for tenants over the most trying months. The division posted a profit of HK$898 million (1H2020: HK$879 million), representing a marginal 2% year-on-year increase.
Projects Under Planning in Macau include the Harbour Mile. The Group is awaiting advice from the Macau SAR Government on the land parcels to be allotted and will review its arrangements for the allotted site to plan strategically for the most productive use of the land in the long term.
The One Central Shopping Mall maintained an occupancy rate of 87% as of 30 June 2021, generating satisfactory turnover yield for the Group.
Transportation
Shun Tak reported that while COVID-19 maintains its stranglehold on regional cross-border travel, the transportation division continued to suffer significantly over the first half of 2021. Since February 2020, all sea route borders were ordered to close and the Group's TurboJET operation came to an immediate standstill, while land transportation services only operated on limited scale. Despite successful roll-out of vaccination programs and active talks between local governments to restart travel, such efforts have been crippled by sporadic outbreaks of resurging cases of the Delta variant. It is anticipated that quarantine-free travel across the border will remain protracted, and that the road to recovery for cross boundary passenger transportation would be long. For the first half of 2021, the division recorded HK$137 million in share of loss (1H2020: loss of HK$275 million).
Hospitality
The company posted that as the COVID-19 pandemic continued to loom, the battered tourism industry showed lukewarm signs of recovery over the first half of 2021. Hong Kong started to ease its local containment measures and entry restrictions as it emerges from waves of outbreaks which drove the industry to a near collapse. Macau reinstated inter-regional travel with China since July 2020, gradually gaining momentum to return to half of pre-pandemic levels but stemmed by an uptick in cases across Guangdong. In China, domestic travel rebounded strongly over the May Golden Week, yet the corporate segment which represents a major revenue component for the Group's hotel portfolio, remains frail. Amid the threat of a highly transmissible mutant strain around the world despite the country's active vaccination drive, it is expected that recovery of international travel will be protracted. Under formidable headwinds, the division posted a loss of HK$94 million over the first six months of 2021 (1H2020: HK$128 million).
Prospects
The company noted that since the resumption of inter-provincial travel between Macau and Guangdong in July 2020, visitor arrivals into Macau have made moderate recovery for twelve consecutive months, particularly over the May Golden Week. While pent-up demand fueled a rebound in leisure travel, prospect for corporate and MICE segments remain bleak. Moreover, the Delta variant has been causing outbreaks in multiple cities in China, leading to abrupt shutdowns in tourism activities and major cancellations for the peak summer travel months. The Group's hotel portfolio has generally posted improved occupancy rate year-on-year against the low base in 2020, yet any meaningfully substantial rebound will not be possible until borders are fully reopened. Against this backdrop, Artyzen Hospitality Group is cautiously managing operating overheads for the seven hotels in operation, as well as pre-opening expenses for its twelve hotels under development, to weather through the challenging climate.
Financials
The Group's bank balances and deposits amounted to HK$6,749 million as at 30 June 2021, representing an increase of HK$1,303 million as compared with the position as at 31 December 2020. Total bank loan facilities available to the Group as at 30 June 2021 amounted to HK$22,605 million, of which HK$4,281 million remained undrawn. The principal amount of the Group's bank borrowings outstanding at the period end amounted to HK$18,324 million.
Based on net borrowings of approximately HK$11,498 million at the interim period end, the Group's gearing ratio (expressed as a ratio of net borrowings to equity attributable to owners of the Company) was 32.3% (31 December 2020: 35.6%).
The Group, including subsidiaries but excluding joint ventures and associates, employed approximately 1,500 employees at the period end.
For more information visit Investor Relations