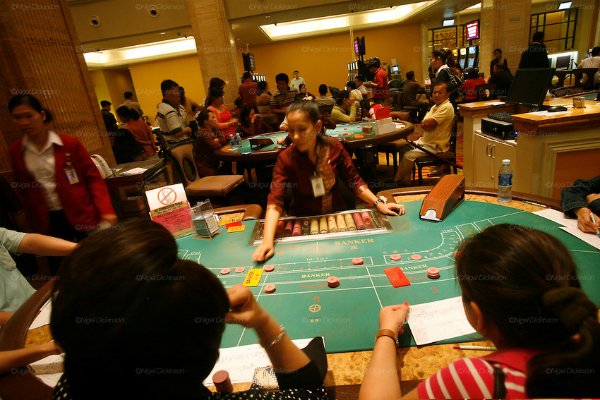 GGR targets for gaming tax calculations, as well as the industry tables and slot machines cap for the next license term of 10 years, announced by the Macau Government, is very much in sync with the present industry scenario, J.P. Morgan reports.
The new capacities should not exceed 6,000 tables and 12,000 slot machines, is also announced in the new license terms, which is much in sync with the current 4,000 current table population spread across the casinos in Macau, the brokerage report read.
"Minimum GGR requirement" was one key area of concern from the Gaming Bill.
Investors feared this could lead to an effective tax hike, considering that operators will have to make up for any shortfalls in gaming tax if they fail to meet the minimum target.
GGR targets
Turns out there wasn't much to worry about as soon as the bill details were announced, J.P. Morgan's note reads.
The brokerage felt that as compared to pre-COVID levels over MOP40 million ($4.9 million) and MOP1 million ($0.12 million) for table and slot, respectively, in 2019, the announced target amount appears low and seems "just a formality."
The new target announcement reads each table or slot machine is only required to generate a minimum GGR of MOP7 million ($0.86 million) or MOP0.3 million ($0.03 million) annually.
This target is actually even below the levels we saw last year MOP13 million ($1.6 million) or MOP0.4 million ($0.04 million).
"This seems like a very low bar to clear, even if we assume a very gradual recovery in demand," the J.P. Morgan report remarked.
Caps
Macau Government announcement equally laid the new capacities for tables and slot machines which is 6,000 tables and 12,000 slots, on a maximum side.
"This is bang in-line with the current level of industry capacity, which implies the government will not grant new additional tables and instead will re-allocate existing gaming capacity for new projects in the next ten years," the J.P. Morgan report emphasized.
Overcapacity
The market is already flooded with excess capacity, even if the demand recovered to pre-COVID levels or beyond. This because "junkets are no more happening, as a result, casinos can utilize those tables for inhouse players," the brokerage report highlighted.
Even with a capacity cap of 6,000 tables, the increase in number of mass tables can grow 20 plus percent from 2019 pre-COVID levels, estimates brokerage report.
As per the J.P.Morgan model mass segment drives 100% of gaming profits.
With the COVID outbreak and travel restrictions across Mainland China, Hong Kong, and Macau, the brokerage report estimates many of the satellite casinos will cease operations in the next term, whose tables can be reallocated to six concessionaires.
"In fact, this could release even more capacity than junket tables if fully re-allocated, as there were 1,100-1,300 tables under satellite casinos in 2019 which includes 150-200 VIP tables, based on J.P. Morgan model," the brokerage highlighted.
No pipeline
There aren't that many new projects in the pipeline.
The only major project, Galaxy Macau Phase IV, planned over the next few years, as all other projects, including Galaxy Phase III, Melco's Studio City Phase II, Wynn's Crystal Pavillion, etc, are essentially an extension of current properties.
Such reshuffling of existing capacity shouldn't cause much bottleneck, especially considering the aforementioned excess capacity, J.P. Morgan argues
There were only about 4,000 mass tables in 2019 that six concessionaires directly operated, and a 6,000-capacity cap appears more than enough to for the next ten years, the brokerage report remarked.
Sentiment
"Not many investors are baking in long-term growth for the sector anyway," the brokerage report stressed the point, mentioning it based on the reflections in the current valuation pack of these companies.
"We feel the consensus view is that the industry revenue may never go back to 2019's level, let alone 'long-term growth," the report highlighted.
There are six concessionaires in Macau who will tender for new licenses and "there is no place for the new applicant," Angela HanLee, Bloomberg Intelligence Analyst expressed here views at G2E Asia 2022, Special Edition held last week at Marina Bay Sands, Singapore.
Picks
"All-in, we don't think the table cap actually matters, in reality, or for the stocks at this level," the brokerage's report concludes.